Theatre begins to rehearse for current season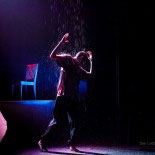 Sports generally have a specific season in which they play. However other activities, such as theatre, play all year round. Well actually they actually put on plays.
Theatre, headed by Mr. John Whapham, is a program close to the hearts of many of the current and past students at SHS. The program is currently rehearsing the shows that will be produced throughout the school year.
Whapham said "This season is going to be very cool. It's got drama, romantic comedy, farce, and musical theater. It's really exciting and I think it's going to be an awesome year."
This year's selection truly has something for everyone.
Junior Cagla Akcadag said "I think the upcoming season is going to be interesting. It will be appealing to lots of different audiences. The spring show is going to be pretty cool because Aves Theatre hasn't done something that contemporary in a while."
Different students join the theatre program for many different reasons. They all have one thing in common though, and that is the passion for performing.
Freshman Adam Pelberg said "I joined theatre because I love to try new things and meet new people. Theatre makes it possible to do both, and learn a lot about the art of acting!"
Have fun cheering on our awesome sports teams, but stop by the theatre as well!
For more information on Aves Theatre and the upcoming shows click here.