Troubles melt away at Scrumbles Cafe
Hang on for a minute...we're trying to find some more stories you might like.
There is nothing quite like ice cream to help one escape from the terrifying and crushing impending reality of AP exams. Knowing this universal truth to be reasonable, I decided to visit Scrumbles Cafe the Sunday afternoon before two such exams.
Upon getting the recommendation from the April "Leaflet," (or rather, writing it, but go figure) it was on the mind. After taking an APUSH class exam, I made a surprise drive-by at my buddy junior Adhiti Chundur's house, and then we were on the road.
"I do sometimes drive through the downtown Montgomery traffic literally just for them. Last year I went almost weekly, and I would study there and eat cookies," said Maia Davidson, 11.
Scrumbles is a fairly new ice cream place in downtown Montgomery (just down the street from Saxbys and The Pop Shop) that specializes in gelato and cookies. (Two desserts in one, or one super dessert together. Did someone say escapism?)
The cafe also has a small lunch menu, coffees, and juices, but the star is clearly the gelato and sorbets.
"I got sorbet that was really good! Going there in the summer would be fun," said Kiri Wang, 11.
The location was easy enough to find if slightly tucked away as many of the small stores in Montgomery are and there was parking. Note of caution to pitiful drivers like myself–there are not many spots, and they may be difficult to maneuver.
Once inside, the store itself is small and adorable. Both Adhiti and I went for the gelato ice cream sandwiches. If you think you could resist such a temptation, you are either lying to yourself or of stronger composition (literally and figuratively) than the two
of us.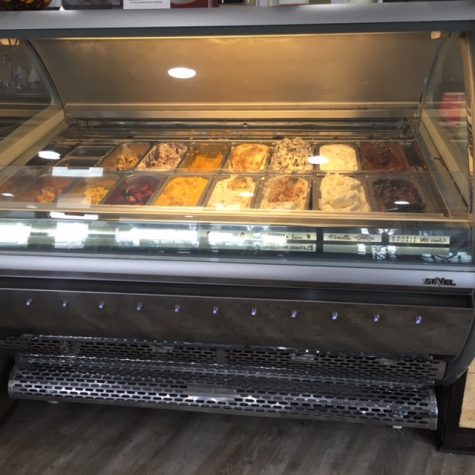 Customers get to choose two cookies and a gelato for their $5.50 sandwich, which I felt was a pretty reasonable price. I chose the "hokey-pokey" gelato (essentially vanilla with caramel streaks) between one chocolate chip and one sugar cookie, while Adhiti got toasted coconut between two sugar cookies.
Each order gets one free topping, and we both went with caramel sauce.
The gelato itself was delicious and thick. I found it a bit too sweet for my palate, but in my experience I have observed that I do not have a very high tolerance for sweetness. The cookies were actually better (both were great), especially if you like your pastries chewy.
Unfortunately, there is something of an inherent flaw in the premise of such an ice cream sandwich. In order for ice cream sandwiches to stay together, they have to be very frozen. However, it would somewhat illogical to pre-freeze many of each of these custom treats, and obvioulsy no one wants to want to have their snack frozen for fifteen minutes before consumption.
This basically translates to an inedible ice cream sandwich. When I tried to pick it up, the scoop just plopped right out from between the cookies. Do not get me wrong, it still tastes great when you eat the cookies alongside the gelato.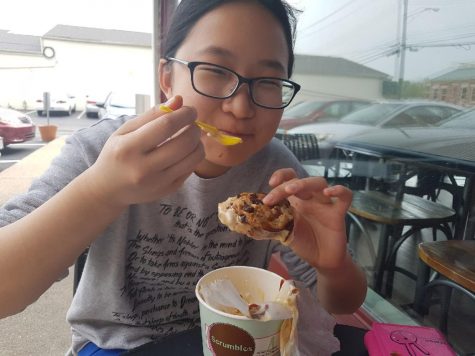 But, if you make the mistake of trying to bullheadedly plow through with the traditional sandwich experience, you will end up covered in melted ice cream. It will get on your clothes. And wallet. And hair. I was a sticky, if satisfied, disaster, but really you can just avoid the mistake I made with some strategic bite-planning.
The only other complaint I had about the experience was also somewhat my own fault. We decided to sit outside. However, the wind was blowing our multiple napkins and melted ice cream drips all over the place, and I had to get up and chase napkins around the wide open parking lot at least three times. Obviously you could just sit inside.
"I guess if you want a more local Graeter's type of ice cream place, Scrumbles is good," Wang said.
Overall, I would recommend Scrumbles Cafe, particularly if you need a nice distraction from AP stress. The gelato and cookies really are quite good; I would just prepare for a mess.