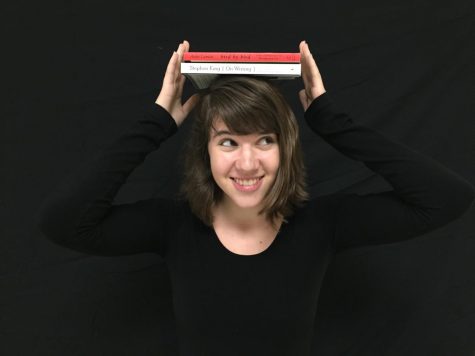 Hi!
My name is Allyson (Ally) Bonhaus and I am a junior at SHS. This is my third year on staff. I hold the positions of feature chief, opinion columnist, and a special projects group member.
Last year and this year as the feature chief I along with the other staff help decide the articles and format those three pages in The Leaf.
Also, each month I turn in a column for the opinion section, which I really enjoy getting my voice out in; I find writing the column to be a lot of fun as well as informative because of the research I do for it.
The special projects group helps generate ideas about what The Leaf's cover story should be each month. It is so fun to work with all these incredible people on staff! I cannot wait for what these next years on the journalism staff entail.
Now, a little more about me is that I love writing in all forms. I write poetry and short stories, so I am taking Advanced Creative Writing and the club. This is evident in the books in my head, which are "On Writing" by Stephen King and "Bird by Bird" by Anne Lamott (both of which I obviously enjoyed).
More about me is that I'm a part of Book Club and Mock Trial.
This summer I went to a law camp sponsored by Stanford University with Envision, culminating in a mock trial. This was a blast and it was rewarding to see my effort pay off with my friends in the courtroom.
Now, in my spare time I read and write, and I am trying to do more yoga and running.
During the school day I help out with the students in PAES Work Study System, which simulates workplaces like being a cashier. It is so fun working with these students and seeing them progress.
I also am a member of the National Society of High School Scholars (NSHSS).
Some of my favorite classes are APUSH and journalism.
So, I am looking forward to a great year with our award winning staff!
Allyson Bonhaus, Feature Chief
May 24, 2018

Girls lacrosse faces old rival

(Story)

May 23, 2018

Ohio plants idea to legalize marijuana

(Story)

May 22, 2018

Why do we go to school?

(Story)

May 18, 2018

Seniors receive recognition, scholarships

(Story)

May 16, 2018

Staff shakes up school culture

(Story/Media)

May 10, 2018

Adaptive PE takes on field day

(Story)

May 09, 2018

Future teachers adapt games for peers

(Story/Media)

May 07, 2018

U.S debates voting age

()

May 04, 2018

Pulsera bracelets help world community

(Story)

May 01, 2018

April 2018 Columns: Remembering Columbine, paper books

(Story)

Apr 27, 2018

Set up for AfterProm lights up SHS

(Story/Media)

Apr 24, 2018
Apr 19, 2018

Volunteers serve 'InReturn'

(Story)

Apr 18, 2018

Sia Sindhwani, 9

(Story/Media)

Apr 12, 2018

Anniversary of Columbine highlights concerns about school safety

(Story/Media)

Apr 11, 2018
Apr 11, 2018

What internal temperatures are dangerous for humans?

(Story)

Apr 09, 2018

Young scientists take on competitions

(Story)

Apr 04, 2018

Scholars receive nominations

(Story)

Mar 30, 2018

Administration reflects on walkout

(Story/Media)

Mar 26, 2018

March 2018 Columns: Advocating for DACA recipients' integration, improvement of book-to-movie adaptations

(Story)

Mar 25, 2018

When students speak

(Story)

Mar 21, 2018

Grief calls for action

(Story/Media)

Mar 16, 2018

Banzhaf soars through competition

(Story/Media)

Mar 14, 2018

'Enough is enough'

(Story/Media)

Mar 13, 2018

The 'F' Word

(Story/Media)

Mar 09, 2018

February 2018 Columns: How journalists, 'Wonder' change lives

(Story)

Mar 09, 2018

Simran Bhola, 11

(Story/Media)

Mar 08, 2018

Students sign up for fairly odd dance

(Story)

Mar 05, 2018

Mr. and Mrs. Sycamore supports survivor

(Story)

Mar 02, 2018

Sabrina Pasterski

(Story)

Feb 21, 2018

Students fight to make schools safe

(Story)

Feb 15, 2018

Mallory Comerford, 11

(Story)

Feb 15, 2018
Feb 14, 2018

Students save lives

(Story)

Feb 14, 2018

The Clouds We Carry

(Story)

Feb 12, 2018
Feb 11, 2018

President Donald Trump's visit to Blue Ash leaves mark on area

(Story/Media)

Feb 09, 2018

Students take on French

(Story)

Feb 06, 2018

Students gather to share political views

(Story)

Feb 06, 2018

January 2018 Columns: Taking action to combat sexism, looking at TV locations that exist in real life

(Story)

Jan 29, 2018

Society faces feminism

(Media)

Jan 19, 2018

People demand equality

(Story/Media)

Jan 18, 2018

Preparing for adulthood

(Story)

Jan 11, 2018

Actors push for reform

(Story)

Dec 21, 2017

2017 Year In Review

(Story)

Dec 19, 2017

December 2017 Columns: Stigma around rape victims, Netflix versus Hulu

(Story)

Dec 13, 2017

Polls determine Republican majority strength

(Story)

Dec 07, 2017

Students check off this season

(Story)

Dec 05, 2017
Dec 01, 2017

November 2017 Columns: Expanding scope by accepting disabilities, recognizing other holidays

(Story)

Nov 28, 2017

Staff help students communicate

(Story)

Nov 13, 2017

Writers form community

(Story/Media)

Nov 09, 2017

October 2017 Columns: Benefits, consequences of attending board meetings, watching horror movies

(Story)

Nov 06, 2017

Women demand voices be heard

(Story)

Nov 01, 2017

Future lawyers get ready for season

(Story)

Oct 20, 2017

Students gear up for college research

(Story)

Oct 19, 2017

Student promotes healthy options

(Story)

Oct 09, 2017

September 2017 Columns: Looking at issue over Confederate statues, new movies, TV shows

(Story)

Oct 05, 2017

Soccer kicks into gear

(Story)

Sep 27, 2017

Writers chase time

(Story/Media)

Sep 21, 2017

Students revive school spirit

(Story)

Sep 17, 2017

Forests going up in flames

(Story)

Sep 15, 2017

Students translate out of class

(Story/Media)

Sep 05, 2017

August 2017 Column: Opioid epidemic rages as debates over use of Naloxone continue

(Story)

Aug 24, 2017

Golfers swing into year

(Story)

May 25, 2017

May 2017 Columns: Reflecting on necessity of passes, track season wrap-up

(Story)

May 12, 2017
May 12, 2017

Students drink up caffeine on weekends

(Story/Media)

Apr 28, 2017

April 2017 Columns: Airline overbooking, winning streak

(Story)

Apr 26, 2017

How much do I know about SHS?

(Story)

Apr 24, 2017

Latin Club represents at Ohio Junior Classical League

(Story/Media)

Apr 19, 2017

Students take stage

(Story)

Mar 13, 2017

Students sleep through mornings

(Story/Media)

Mar 10, 2017

Rita Levi-Montalcini

(Story)

Mar 09, 2017

Madeleine Albright

(Story)

Feb 16, 2017

Writing through class

(Story/Media)

Feb 27, 2017
Feb 10, 2017

Stretching through afternoons

(Story/Media)

Feb 09, 2017
Feb 06, 2017

Latin students seize their days

(Story/Media)

Feb 03, 2017
Jan 10, 2017

Both genders fighting for equality

(Story)

Dec 16, 2016

Attorneys objecting through mock trial

(Story/Media)

Dec 12, 2016

Flipping the pages

(Story)

Dec 07, 2016

Testing for allergies

(Story)

Dec 07, 2016

Tracking the right books

(Story)

Nov 22, 2016

Homecoming creates memories

(Story)

Nov 16, 2016

Busting out Caesar

(Story/Media)

Nov 11, 2016

Taking the classroom around the world

(Story/Media)

Nov 04, 2016

Jamming to music

(Story/Media)

Nov 03, 2016

Heads pounding through headaches

(Story)

Nov 01, 2016

Heading into school time

(Story/Media)

Oct 21, 2016

Busting out earbuds between bells

(Story/Media)

Oct 12, 2016

Taking technology to classrooms

(Story/Media)

Oct 04, 2016

Writing through stress

(Story/Media)

Sep 15, 2016

Calling all students for Latin Club

(Story)

May 26, 2016

Students sing the night away with Cabaret

(Story)

May 25, 2016
May 04, 2016

Favorites for reading about past

(Story)

Apr 20, 2016

Here come the new freshman

(Story/Media)

Apr 25, 2016

Thou villainous malmsey-nosed minnow

(Story)

Apr 13, 2016

Why ban 'Hunger Games?'

(Story)

Apr 08, 2016

April brings rain, rhymes

(Story/Media)

Mar 30, 2016
Mar 30, 2016
Mar 07, 2016

Margaret Hamilton

(Story)

Mar 03, 2016

Honoring the famous author

(Story)

Feb 15, 2016

Executing prison policies

(Story)

Feb 10, 2016

Where can I find the beasts?

(Story)

Feb 02, 2016

Why should you travel?

(Story/Media)

Feb 02, 2016

W.E.B. Du Bois

(Story/Media)

Jan 27, 2016

"Facilis descensus Averno"

(Story)

Jan 13, 2016

Freshman explore their history

(Story)

Dec 11, 2015

What does Latin Club do?

(Story)

Dec 10, 2015

Students share opinions on ACE Bell

(Story/Media)

Dec 09, 2015

Is the "Lord of the Flies" still the Lord?

(Story)

Dec 01, 2015

Looking ahead at new books

(Story/Media)

Nov 30, 2015

Flying over break

(Story)

Nov 10, 2015

Q & A with freshmen Dylan Whittemore

(Story/Media)

Oct 30, 2015

Author continues to write in debut series

(Story/Media)

Oct 26, 2015

David Arnold speaks out to readers

(Story)

Oct 21, 2015

How Learning Communities will shape the future of SHS

(Story/Media)

Oct 21, 2015

Older books coming out with new covers

(Story)

Oct 01, 2015

Walking to End Alzheimer's at Sawyer Point

(Story)

Sep 23, 2015

Is the ACE Bell really working for students and teachers?

(Story)