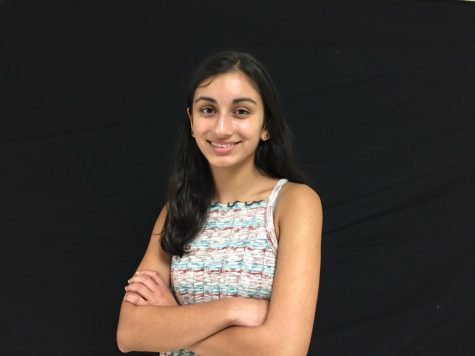 Hello!
To introduce myself, my name is Anisa, and I am a sophomore in my first year on staff. I am here because I like to read news articles and have long enjoyed writing, so the very thought of a union of the two excites me. I am looking forward to exploring the varied departments of journalistic writing and being able to contribute to this award-winning publication.
When not in class or doing schoolwork, I can often be found at The Studio for Dance, a lively, multifaceted dance studio where I am a member of the performing and competing company. Our company partakes in regional and national dance competitions as well as performances we are selected to put on or participate in.
I consider myself a creative person, which is indicative of my love for music. Primarily, I listen to indie artists like Metric, Courtney Barnett, Grimes, Parquet Courts, and Arcade Fire, and new wave or alternative 80s music in the realm of The Smiths, The Cure, The Pixies, and The Pretenders.
I also take pleasure in drawing portraits, hands, and feet, using glitter glue, and reading fiction novels.
Having grown up a vegetarian and rather recently making the decision to eat vegan, I am a firm believer in abstinence from animal products. I hope to be able to apply all of my enthusiasms and expand my horizons during my time on the staff of The Leaf.
Anisa Khatana, Staff Writer
May 21, 2018

May 2018 Staff Editorial: Debating legitimacy of conspiracy theories

(Media)

May 07, 2018

Looking at early start times

(Story)

May 07, 2018
May 07, 2018

Sophia Taylor, 10

(Story/Media)

May 07, 2018

Local schools contemplate start time change

(Media)

Apr 27, 2018

Chudnoff launches literary meditation

(Story)

Apr 25, 2018

Adept adaptors launch new art class

(Story/Media)

Apr 16, 2018

John Elder Robison

(Story)

Apr 01, 2018

Mader speaks on school safety

(Story)

Mar 29, 2018

Sophia Muhleman, 9

(Story/Media)

Mar 23, 2018

Chemists dabble in Nitrogen

(Story/Media)

Mar 21, 2018

Mr. & Mrs. Sycamore provides fun evening for all

(Story)

Mar 25, 2018

When students speak

(Media)

Mar 21, 2018

Why does orange juice taste awful after brushing one's teeth?

(Story)

Mar 12, 2018

Student organizations put 'fun' in 'fundraising'

(Story)

Mar 12, 2018

Brandon Sichel, 9

(Story/Media)

Mar 05, 2018
Mar 01, 2018

Engineering of teamwork

(Story)

Feb 19, 2018
Feb 07, 2018

Portman makes first appearance with President

(Story)

Feb 07, 2018

Farhan Khan, 10

(Story/Media)

Feb 07, 2018
Feb 06, 2018

Trump, Renacci navigate indefinite relationship, race

(Story)

Feb 04, 2018

Science in Action

(Story)

Jan 31, 2018

The wrong conversation

(Story)

Jan 15, 2018

Homeless Care Club vs. Period Stigma

(Story)

Jan 11, 2018

Q&A: Combs awaits first meet

(Story/Media)

Dec 15, 2017

Homeless Care Club partners with nonprofit retailer in feminine hygiene initiative

(Story/Media)

Dec 07, 2017

Runners race back to work

(Story)

Dec 07, 2017

True or false: homelessness, periods

(Story)

Nov 15, 2017

Wall woos Cincinnati

(Story/Media)

Nov 03, 2017

'Approximately half of our entire world…'

(Story/Media)

Nov 02, 2017

Sadie Hawkins dance raises questions

(Story/Media)

Oct 26, 2017

Jewelry with intention

(Story)

Oct 13, 2017

Columbus Day reignites controversy

(Story)

Oct 05, 2017

Soccer spirit supports multiple sclerosis

(Story/Media)

Oct 04, 2017

Homeless Care Club convenes

(Story)