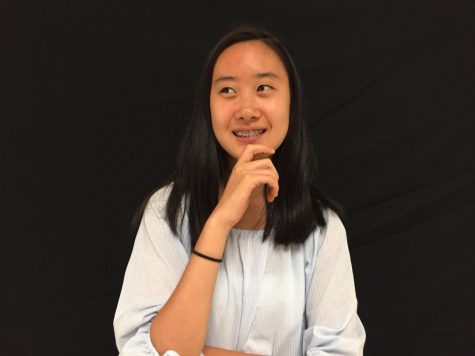 Hi there,
I am Hannah Lee and I will be serving as Opinion Chief for our news magazine The Leaf!
I am a junior at SHS and this is my second year in journalism. I can't wait for another busy and exciting year in room 115!
After my time as Associate-Feature Chief came to a close, I decided I wanted to be the Opinion Chief. I basically decide which articles are put in the Opinion section of The Leaf, as well as format them in the nine Adobe InDesign columns, create infographics, and add pictures to arrange the pages accordingly.
In addition, as part of Opinion, I am in charge of 'Leafing through the Masses' where students' voices are directly quoted and shared. Although in the center of Opinion, I also enjoy writing outside the genre with News, Feature, A&E, and contributing to our online magazine The Leaflet.
In the future, I hope to be part of a major or career that keeps a little bit of journalism a part of my life.
Outside of journalism, you can also see me involved in the marching band, concert band, AP Chinese, and at church.
More about me: I enjoy chatting with friends, taking walks in the park, frappuccinos, animals, nature (minus bugs), Disney movies and songs; and playing clarinet and piano.
Lastly, here is a quote I like by a very good writer: "Sometimes the questions are complicated and the answers are simple." ~Dr. Seuss
Hannah Lee, Opinion Chief
May 21, 2018

AP Lang students flip the last page

(Story/Media)

May 21, 2018

May 2018 Columns: Contemplating summer, endorsing athletes

(Story)

May 18, 2018

Band plays at graduation

(Story)

May 08, 2018
May 05, 2018

U4U elects new officers

(Story)

Apr 06, 2018

Let poetry madness begin

(Story/Media)

Mar 28, 2018

Annie Jump Cannon

(Story)

Mar 23, 2018

Samuel Risma, 11

(Story/Media)

Mar 21, 2018

Diversity Week celebrates religion

(Story)

Mar 19, 2018

U4U delivers Diversity Week

(Media)

Mar 19, 2018

Even before I knew about major shootings

(Story/Media)

Feb 27, 2018

Colorful Eats cooks up exquisite sweets

(Story/Media)

Feb 20, 2018

Neha Sunil, 11

(Story/Media)

Feb 12, 2018

Will you be my Valentine?

(Story)

Feb 08, 2018
Feb 07, 2018

Chinese Club preps for Chinese New Year

(Media)

Jan 30, 2018

U4U searches for sponsors

(Story)

Jan 17, 2018

North, South Korea unify Olympic hockey team, future possibilities alarm public

(Story)

Jan 12, 2018

APUSH paper deadline closes in

(Story/Media)

Jan 03, 2018

Animal hybrid breeding crosses line

(Story)

Dec 13, 2017

Can you even calligraphy?

(Story/Media)

Nov 22, 2017

What's your high school story?

(Story)

Oct 30, 2017

Nishanth soars high, awarded Eagle Scout

(Story)

Oct 19, 2017

Juniors juggle jumbles of classes, clubs, extracurriculars

(Story)

Oct 18, 2017

Summit holds Halloween hangout with last movie

(Story/Media)

Oct 04, 2017

Athlete Profiles: Varsity Gold Tennis

(Story)

Oct 02, 2017

Do you koalify as an animal expert?

(Story)

Sep 27, 2017

'The more that you read, the more things you will know. The more that you learn, the more places you'll go.' -Dr. Seuss

(Story/Media)

Sep 16, 2017

Musicians bring marching into the classroom

(Story/Media)

May 12, 2017

'Tis the testing season'

(Story)

May 12, 2017

Musical makes it big

(Story)

Apr 28, 2017

How much do you know about Mr. Mader?

(Story)

Apr 25, 2017

U4U transitions for next year

(Story)

Apr 21, 2017

Social media causes depression

(Story)

Apr 12, 2017

Relay for Life resolutes

(Story)

Apr 07, 2017

No one rests during Relay for Life

(Story)

Mar 03, 2017

Making memories at Fine Arts Weekend

(Story)

Mar 02, 2017

Hailing storm causes hectic

(Story)

Feb 27, 2017
Feb 24, 2017

Architecture class constructs big dreams for tiny home

(Story)

Feb 03, 2017

"Irena's Vow" incites excitement

(Story)

Jan 23, 2017

Sophomores sample ACT

(Story)

Jan 10, 2017

Band marches in tune

(Story)

Oct 24, 2016

Wo yao ni (I want you) for Chinese Club

(Story)

Sep 27, 2016

Marching Band's second show changed to exhibition

(Story)

Sep 16, 2016

Mother Nature can not stop Marching Band

(Story)