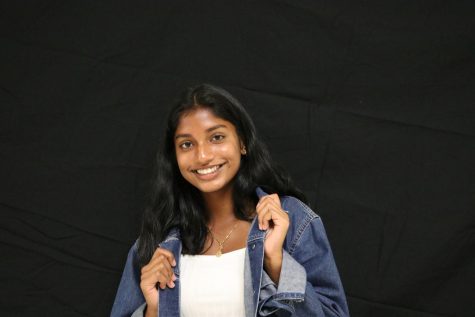 Hey there!
My name is Harsitha Kalaiarasan, and although my name is a mouthful, I promise that my writing is a little more clear-cut, or at least I hope.
I am a sophomore and this is my first year in journalism. I would say my biggest regret in high school so far is not taking this class sooner, as I'm enjoying everyday spent developing my creative energy. I find this class a perfect vehicle for expressing my views and impacting others; whether it be about more weighty topics like politics, or more trivial ones such as fashion and school activities.
Although journalism is extremely endearing, my passion belongs on the tennis court. I play on the Varsity Gold tennis team in a highly competitive position which has helped develop my toughness.
Tennis is a high-pressure individual sport which has taught me to be independent as I recover mentally from excruciating losses, push through difficult matches, and cheer on my teammates regardless of their results. From these intense experiences on the court, I have learned more than I possibly could have predicted when I picked up a racquet at the age of nine.
When I'm not on the court, I spend time reading, doing yoga, running, collaging, and spending time with friends. I'm interested in the Spanish language and hope to someday speak fluently enough to start a career in Spain.
I imagine myself in an industry like medicine, law, or perhaps even journalism(we'll see) but one involving traveling.
I would best describe myself as someone that sees the possibilities for growth around me and one who wants to mend the many injustices found in our world.
Serena Williams said that "in life you should work on yourself until the day you die." These words from my lifelong idol keep me constantly motivated for the future.
If you've gotten this far on my profile, thanks for reading!
Harsitha Kalaiarasan, Staff Writer
May 24, 2018

Tennis individuals head into state

(Story)

May 23, 2018

What's at the bottom of the ocean?

(Story)

May 14, 2018

Sophomores challenge themselves through debates

(Story)

May 14, 2018

Fighting smart phone addiction

(Story)

May 03, 2018

Mayu Fukuda, 10

(Story/Media)

Apr 20, 2018

Shsleaf.org wins online Pacemaker award

(Story)

Apr 11, 2018

Rural Puerto Ricans face ongoing effects of hurricane

(Story/Media)

Apr 10, 2018

Innovative students present at Buckeye Science Fair

(Story)

Mar 20, 2018
Mar 14, 2018
Mar 07, 2018

Brinkman shines on stage

(Story)

Feb 23, 2018

Varsity Girls Basketball: Looking back on season

(Story)

Feb 14, 2018

Gretchen Stommel, 10

(Story)

Feb 05, 2018
Feb 03, 2018

Q&A: Bao writes her way to recognition

(Story)

Jan 22, 2018

Young experimenters dabble in real world science

(Story)

Jan 18, 2018

Wave of activism lies ahead in new year

(Story)

Jan 15, 2018

Homeless Care Club vs. Period Stigma

(Story)

Dec 22, 2017

Teens traverse globe

(Story)

Dec 08, 2017

Puerto Rico fights uphill battle

(Story)

Dec 01, 2017

Black Friday heads in new direction

(Story)

Nov 14, 2017

Lady Ave swimmers plunge into new season

(Story/Media)

Oct 20, 2017

Team atmosphere replaces solitude in individual sports

(Story/Media)

Oct 19, 2017

Puerto Rico cries for help

(Story)

Oct 16, 2017

New skincare replenishes teens

(Story)

Oct 11, 2017

Aves tennis builds one program

(Story)

Sep 26, 2017

One student embodies versatility

(Story)

Sep 20, 2017

SHS says 'hola' to culture

(Story/Media)