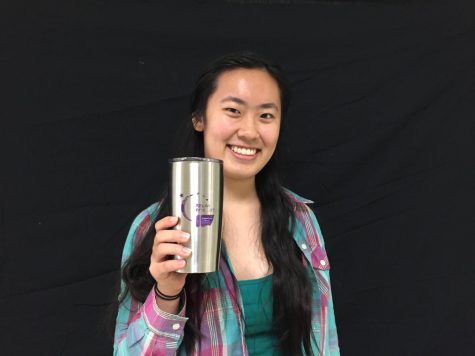 Are you ready to get funky?
Because I am! My name is Jessica Lu. I'm a junior, and this is my second year in the journalism program. Last year, I joined the program as a means to express my thoughts.
As a freshman, I was particularly passionate about the representation of Asian Americans in the media, but frustrated that I had no way to bring attention to the issue. Now, I am still just as passionate about the issue, but I can gladly say I have a voice.
Additionally, as a future voter, journalism also helps me to stay aware of politics and world issues. Behind the scenes of our magazine The Leaf, I was and still am having the ride of my life.
I had to become adept at using a bunch of different technology, but truly the learning of new skills never stops. I am greatly appreciative to our wonderful staff and teacher.
Outside of journalism, I participate in Regional Youth Leadership, Model UN, year-round competitive swimming, piano, and serve in committee for Relay For Life.
A favorite thing of mine includes making other people laugh.
Happy reading!
Jessica Lu, Staff Writer
May 18, 2018

Seniors celebrate end of year, exploring the grad party tradition

(Story)

May 14, 2018

'This is America': The trending music video's hidden meaning

(Story)

May 02, 2018

Montgomery Area relays for life

(Story/Media)

Apr 29, 2018
Apr 25, 2018

Dr. Joseph Horrigan

(Story)

Apr 20, 2018

Shsleaf.org wins online Pacemaker award

(Story/Media)

Apr 20, 2018
Mar 28, 2018

Luis Pereda, 11

(Story/Media)

Mar 23, 2018
Mar 14, 2018
Mar 07, 2018

Spanish students learn to dance

(Story)

Mar 02, 2018

SHS swims against state

(Story)

Feb 28, 2018

'Little fish, big pond'

(Story)

Feb 26, 2018

Juniors tackle ACT

(Story/Media)

Feb 23, 2018

Annette Lee, 11

(Story/Media)

Feb 15, 2018
Feb 05, 2018

GMC Recap: Aquatic version

(Story)

Feb 02, 2018

Swimmers buy baby gifts

(Story/Media)

Jan 26, 2018

SHS sweeps competition

(Story/Media)

Jan 23, 2018

More than just a stereotype

(Story)

Jan 12, 2018

Swimmers meet 'hell week'

(Story)

Jan 01, 2018

What news does not tell you

(Story)

Dec 05, 2017
Dec 05, 2017

Tips to stay healthy this season

(Story)

Nov 15, 2017

Trump Administration decision revokes residency

(Story)

Nov 03, 2017

Swimmers dive into tryouts

(Story)

Oct 31, 2017

Students warm up to colder days

(Story/Media)

Oct 20, 2017

Name that pop song!

(Story)

Oct 13, 2017

'Racist Dove ad' taken out of context

(Story)

Oct 09, 2017

'Sisters' bond beyond court

(Story)

Oct 02, 2017

Saudi Arabia drives in new direction

(Story)

Sep 26, 2017

Enforced gender roles lead to dire consequences

(Story)

Sep 21, 2017

'Hollywood is racist'

(Story)

May 18, 2017

Bump, set, spike!

(Story)

May 17, 2017

No stain, no gain

(Story)

May 12, 2017
May 09, 2017

Apple sells less for more

(Story)

Apr 27, 2017

Restaurant review: Uncle Yip's

(Story/Media)

Apr 24, 2017

Snapchat introduces 3D filter

(Story/Media)

Apr 13, 2017

What kind of diet can you try?

(Story)

Apr 06, 2017

Court says 'no' to discrimination based on sexual orientation

(Story)

Apr 03, 2017

One trick helps with avoiding nighttime bathroom breaks

(Story)

Mar 29, 2017

Parents ditch cribs for baby boxes

(Story)

Mar 13, 2017
Mar 03, 2017
Feb 23, 2017

Q&A with Riley Shanks

(Story)

Feb 21, 2017

PewDiePie's jokes offend companies, crowds

(Story)

Feb 13, 2017

France bans unlimited soda refills

(Story)

Feb 01, 2017
Jan 27, 2017

Rallying for Relay

(Story)

Jan 20, 2017

Say (No)tella for different reasons

(Story)

Jan 20, 2017
Jan 12, 2017

National Security Council member steals words

(Story)

Jan 11, 2017

Diving into swim season

(Story)

Dec 02, 2016

Mock Trial assembles team

(Story/Media)

Nov 11, 2016

Bernie Wong returns to instruct JV team

(Story/Media)

Nov 01, 2016

Stepping Out Club steps into Halloween

(Story)

Oct 28, 2016

First-time advisor heads first-time club

(Story/Media)

Oct 27, 2016

5 Drinks to keep you warm this winter

(Story)

Oct 04, 2016

Mock trial sees new changes, new season

(Story)

Sep 29, 2016

Q and A with Stepping Out Club advisor Lindsey Collins

(Story)

Sep 22, 2016

FBLA hits off year with high hopes

(Story/Media)

Sep 16, 2016

Q and A with sophomore class sponsor Laura Newton

(Story)