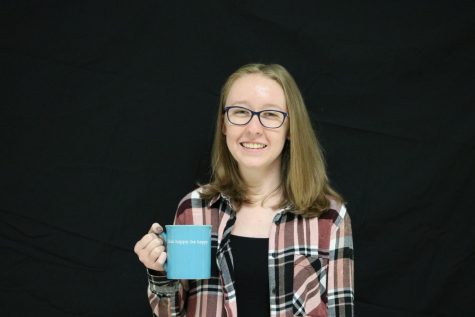 Hello, and welcome!
My name is Kirsten Thomas, and I am the Spotlight Chief for The Leaf. I am a junior here at SHS, and this is my second year on the staff.
I enjoy writing spotlight each month because I love meeting new people, and then having the opportunity to share their story with others.
In my free time, I like to read, write, watch movies, and spend time with friends and family.
After high school, I am hoping to pursue my passion of journalism in college.
Thanks for visiting, keep looking around, and come back again soon!
Kirsten Thomas, Spotlight Chief
May 23, 2018

Bud Acus field gets new turf, track

(Story)

May 21, 2018

Little Theater transforms into Synnovation Lab

(Story)

May 21, 2018

Skyline includes diverse range of staff members

(Story)

May 21, 2018

Seniors soar through graduation

(Story)

May 18, 2018

Seniors receive recognition, scholarships

(Story)

May 18, 2018

Seniors attend cookout

(Story)

May 17, 2018

David Moskowitz receives OHSAA award

(Story)

May 16, 2018

Seniors visit elementary schools

(Story)

May 16, 2018

Seniors recognized for sports, 3,000 point club

(Story)

May 16, 2018

Kaitlynn Herzog, 12

(Story/Media)

May 15, 2018

Spring athletes sign for universities

(Story)

May 10, 2018

Adaptive PE takes on field day

(Story)

May 08, 2018

Autism awareness month reflection

(Story/Media)

Apr 30, 2018

Tsao takes on globe

(Story)

Apr 30, 2018

Work study enthusiast

(Story)

Apr 27, 2018
Apr 23, 2018

Adaptive PE plans Field Day

(Story)

Apr 23, 2018

Susan K. Lewis Stokes

(Story)

Apr 20, 2018

Jeicy Hernandez-Baquero, 11

(Story/Media)

Apr 12, 2018

Claire Bolyard, 11

(Story/Media)

Apr 05, 2018
Apr 04, 2018

Molina transitions students into workforce

(Story)

Apr 03, 2018

Autism enters the workforce

(Story)

Apr 02, 2018

April calls for Autism Awareness

(Story)

Mar 29, 2018

Students step back into history

(Story/Media)

Mar 29, 2018
Mar 28, 2018

Ohio University opens campus to prospective journalism students

(Story/Media)

Mar 22, 2018

Hernandez Baquero prepares for future

(Story)

Mar 18, 2018

Apple Watch: Waste or Great?

(Story/Media)

Mar 08, 2018

Chemistry classes (tie) dye

(Story/Media)

Mar 07, 2018

Hannah Taylor, 11

(Story/Media)

Mar 06, 2018

Pereda strives for success

(Story)

Mar 02, 2018

Jonah Tessel, 11

(Story/Media)

Feb 28, 2018

Cummins qualifies for state

(Story)

Feb 14, 2018

Blood donation tips, tricks

(Story/Media)

Feb 07, 2018

Music sparks Swart's passion

(Story)

Feb 02, 2018

Final count arrives from Live for Liz

(Story)

Feb 01, 2018

SHS Freshman Camp

(Story)

Jan 18, 2018

Mason, Sycamore join together in second annual Live for Liz

(Story)

Jan 12, 2018

Bringing People Together

(Story)

Jan 10, 2018

Lady Aves Live for Liz

(Story)

Dec 28, 2017

Concern rises for household pets

(Story/Media)

Dec 20, 2017

Hlawn overcomes international troubles

(Story)

Dec 04, 2017

Choral program approaches winter concert

(Story)

Nov 30, 2017

Pelberg leads Robotics Team

(Story)

Nov 11, 2017

Stover leads Unified for Uganda

(Story)

Oct 19, 2017

SHS Puerto Rico recovery effort

(Story)

Oct 13, 2017

Mr. Lonnie Stover

(Story)

Oct 10, 2017

Lending a Helping Hand

(Story)

Oct 07, 2017

Bella Voce sings in harmony

(Story)

Oct 06, 2017

Curtains up on Amanda Jensen

(Story)

Sep 27, 2017

United States Womens National Team (USWNT) takes field at Nippert Stadium

(Story)

Sep 26, 2017

What did you think of High School Nation?

(Story)

Sep 21, 2017

Helping hurricane victims

(Story)

Sep 14, 2017

How much do you know about hurricanes?

(Story)

Sep 11, 2017

Cents to Socks unites SHS

(Story/Media)

Sep 01, 2017

Award-winning freshman aces ACT

(Story)

Aug 15, 2017

Choir sings with rock band

(Story)

May 25, 2017

Baker bakes way to future

(Story)

May 03, 2017

'Kicking bad cells out'

(Story)

Apr 26, 2017

How much do you know about SHS' sports?

(Story)

Apr 04, 2017

Number of drug-addicted babies spikes

(Story)

Mar 16, 2017

So long, farewell

(Story)

Mar 10, 2017
Mar 07, 2017
Feb 18, 2017

Weitz bowls 300, sets SHS record

(Story)

Feb 17, 2017

Recapping Valentine's Day

(Story)

Feb 14, 2017

Cabaret celebrates choir members

(Story)

Feb 10, 2017

Lady Aves Live for Liz

(Story)

Jan 26, 2017

SHS basketball players Stuff The Truck

(Story)

Jan 12, 2017

Past SHS teacher now works as Greene School interim assistant principal

(Story)

Jan 10, 2017

The disease in disguise

(Story)

Nov 04, 2016

Band striking up for hunger

(Story)

Oct 05, 2016

Announcing National Merit Commended

(Story)