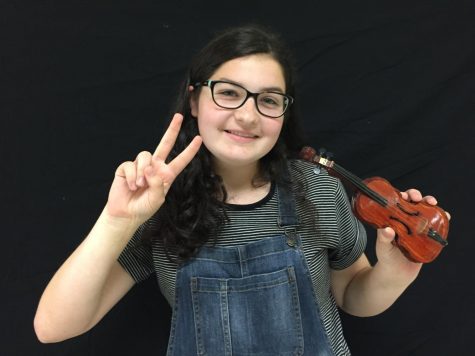 Hello!
My name is Lindsey Brinkman and I am a sophomore at Sycamore High School, hence this is my second year on staff. I currently hold the position as the entertainment chief and my job is to help design the pages for our entertainment section.
I enjoy writing on multiple genres such as news, and feature but most often I write about the arts and entertainment. To help create pages for The Leaf, I work with several design programs such as Adobe InDesign, Illustrator, and Photoshop.
I joined the journalism program to better my writing and to help increase my knowledge on what is happening in the world. I am excited for another year on the staff and can't wait to see what's in store.
More about myself: I enjoy a wide variety of different activities such as, marching band, fencing and softball. As well as those I have played the cello for six years now and I m a part of the school orchestra. In orchestra I hold the position as librarian and that means i help with the music for each individual student. This is my first year in this position but I have enjoyed every aspect of it so far.
Thank you for stopping by, and I 'll leave you with my favorite quote: "Strive not to be a success, but rather to be of value." –Albert Einstein.
Lindsey Brinkman, Entertainment Chief
May 22, 2018

What your favorite color says about you

(Story)

May 21, 2018

Theo Eborall, 10

(Story/Media)

May 09, 2018

SHS orchestra concert

(Story)

Apr 25, 2018

Color Guard clinics captivate new members

(Story)

Apr 23, 2018

Alice Lundgren, 10

(Story/Media)

Apr 09, 2018

Marching Band marches into season

(Story)

Mar 23, 2018

Winter guard, winter drumline holds community performance

(Story)

Mar 06, 2018
Mar 05, 2018

How much do you know about SHS fencing?

(Story)

Feb 23, 2018
Feb 16, 2018

Which movies do you plan on seeing?

(Story)

Jan 29, 2018

To AP or not to AP

(Story/Media)

Jan 21, 2018

Emphasizing self-expression

(Story)

Jan 19, 2018

Practice makes perfect

(Story/Media)

Jan 12, 2018

Winter guard works together

(Story/Media)

Dec 08, 2017

All play for annual concert

(Story/Media)

Dec 06, 2017

Students figure out fencing

(Story/Media)

Nov 06, 2017

Band helps with hunger

(Story)

Oct 27, 2017

Band crescendos into end of season

(Story)

Oct 05, 2017

Soccer spirit supports multiple sclerosis

(Story)

Oct 04, 2017

Band has break from making music

(Story)

Sep 08, 2017

Band balances out

(Story)

May 25, 2017
May 12, 2017
Jan 27, 2017

Club spinning into season

(Story)

Jan 13, 2017

Preparing for performance

(Story)

Dec 20, 2016

Teamwork makes dream work

(Story)

Dec 14, 2016

Mastering memorization

(Story)

Nov 22, 2016

Color Guard competes collectively

(Story)

Nov 21, 2016

Bringing music across country

(Story)

Nov 07, 2016

Color guard adds volume to Vortex

(Story)

Nov 03, 2016

Show spirals to a stop

(Story)

Nov 03, 2016

Group works to finish, not diminish

(Story)

Nov 03, 2016

Concert uncovers senior competence

(Story)

Sep 22, 2016

Color guard displays delightful visuals

(Story)

Sep 19, 2016

Rain forces first competition indoors

(Story)

Sep 09, 2016

Marching Band competes for first time this year

(Story)