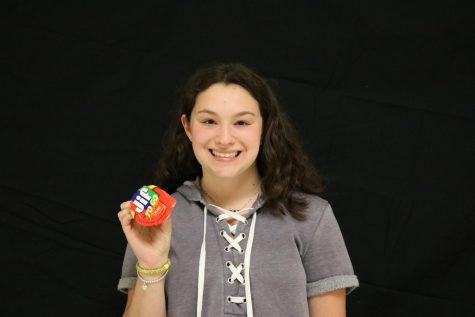 Hi!
My name is Sara Margolis and I am a junior at Sycamore High School.
This is my second year doing journalism. I love to write so I decided that I would try journalism and I love it.
I love being around little kids, so in my free time I spend a lot of my time babysitting, and working at a daycare. I was also a camp counselor this past summer.
I also spend time watching Food Network wishing I could bake as well as them, or watching Dance Moms wishing I could dance like that.
I am as involved in school activities such as technical theater, and Operation Give Back. I also am a student ambassador.
Sara Margolis, Staff Writer
May 18, 2018

Seniors attend cookout

(Story)

May 17, 2018

3,000 Point Club inductees, class of 2018

(Story)

May 17, 2018

David Moskowitz receives OHSAA award

(Story)

May 16, 2018

Seniors recognized for sports, 3,000 point club

(Story)

May 11, 2018

Olivia Hewitt, 11

(Story)

May 04, 2018
May 01, 2018

April 2018 Columns: Remembering Columbine, paper books

(Story)

Apr 27, 2018

Orange Ribbons for Jaime raises awareness on gun safety

(Story)

Apr 19, 2018
Apr 18, 2018

Earth Day Fun Facts

(Story)

Apr 17, 2018

Can TV characters afford their houses?

(Story)

Apr 12, 2018

Teens embark on March of the Living

(Story)

Apr 10, 2018
Apr 03, 2018
Mar 26, 2018

March 2018 Columns: Advocating for DACA recipients' integration, improvement of book-to-movie adaptations

()

Mar 23, 2018
Mar 16, 2018

March Madness Fun Facts

(Story)

Mar 09, 2018

February 2018 Columns: How journalists, 'Wonder' change lives

(Story)

Feb 23, 2018
Feb 21, 2018

Quvenzhané Wallis

(Story)

Feb 08, 2018

Molly Ferguson, 11

(Story)

Feb 06, 2018

January 2018 Columns: Taking action to combat sexism, looking at TV locations that exist in real life

(Story)

Jan 31, 2018

Aves Ablaze Robotics

(Story)

Jan 22, 2018

Giving back to the community

(Story)

Jan 18, 2018

Did you know this about January?

(Story)

Jan 17, 2018

Future educators rise

(Story)

Dec 19, 2017

December 2017 Columns: Stigma around rape victims, Netflix versus Hulu

(Story)

Dec 06, 2017

Aves Ablaze builds

(Story)

Dec 05, 2017

Students skate around clock

(Story)

Dec 01, 2017

November 2017 Columns: Expanding scope by accepting disabilities, recognizing other holidays

(Story)

Nov 09, 2017

October 2017 Columns: Benefits, consequences of attending board meetings, watching horror movies

(Story)

Nov 08, 2017

What you did not know about November

(Story)

Nov 03, 2017

Boys shoot, score

(Story)

Oct 15, 2017

Readers embark on Alaskan adventures

(Story/Media)

Oct 09, 2017

September 2017 Columns: Looking at issue over Confederate statues, new movies, TV shows

(Story)

Oct 04, 2017

Farming season ends

(Story)

Sep 27, 2017
Sep 14, 2017

Fiona stars in zoo

(Story)

Sep 11, 2017

Americans reflect upon 9/11

(Story)

May 12, 2017
May 12, 2017

Summer homework adds up

(Story)

May 11, 2017

Sycamore Community Schools launches new app

(Story)

Apr 19, 2017

How well do you know Cincinnati?

(Story)

Mar 27, 2017
Mar 06, 2017

Fashion For The Cure struts down runway

(Story)

Feb 02, 2017
Feb 01, 2017
Jan 30, 2017
Jan 13, 2017

Golden Globes golden girl

(Story)

Jan 10, 2017

Camping for a cause

(Story)

Jan 06, 2017
Nov 07, 2016
Oct 07, 2016

I love coffee a latte

(Story)