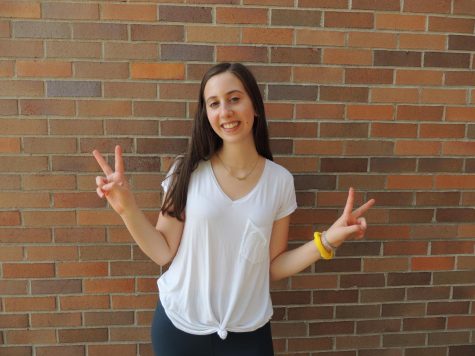 Welcome! I am Sydney Weiss, and I am a senior (woo hoo!).  I have been in journalism throughout all of high school. Year after year, I can not stay away from room 115. I have really enjoyed soaking up everything I possibly can about the various platforms, and I have had a ton of fun along the way. While I have held many positions throughout my four years, I am currently Web Editor and Art and Photo Managing Editor. As Web Editor, I help keep our award-winning website running each and every day. This means I post breaking news, interactive quizzes, infographics, and other content. I do not need to tell you that, seeing as you are on the website right now! As Art and Photo Managing Editor, I am in charge of the design aspects of The Leaf. I designed the style sheet for this year, and I design covers and layouts for each issue.
Although I spend a large chunk of my time in room 115, the rest of it goes to the theatre. I have been in musicals and plays of various genres throughout my time at the high school. My favorite show thus far has been "Into the Woods" where I played Milky White (yes, that's the cow). This was not one of my most prestigious roles, but I love making people laugh, and this role gave me the perfect outlet to do so. Last year, I had the privilege of producing my self-written comedic play "Table for One." Through this experience, I learned that I love playwriting.
I studied playwriting and fiction this past summer at Camp Interlochen, and I took an experimental writing course at Brown University through Summer@Brown in 2017. I hope to write and produce full-length plays at some point in the future. Enough about my lofty goals! This is not my resume!
My two favorite foods are sushi and chocolate, although I do prefer to eat them separately. I love to joke with and pull pranks on my friends, which has gone as far as convincing them I do stand-up comedy (I do not). As of now, I am thinking about pursuing law (maybe I lied about being finished with the lofty goals), but I am notoriously indecisive, perhaps because I am passionate about many different topics. Regardless, I know that the skills I have learned in room 115 will follow me wherever I go.
Sydney Weiss, Web Editor
May 08, 2019

Casey Johnson, 11

(Story)

Apr 18, 2019

Autism enters workplace

(Story)

Feb 26, 2019
Jan 10, 2019

Adam Pelberg, 12

(Story/Media)

Dec 11, 2018
Dec 10, 2018

Activists stand up to hate

(Story/Media)

Dec 03, 2018

Sarah Guedira, 12

(Story/Media)

Nov 29, 2018
Nov 28, 2018

Winter holidays arrive

(Story)

Nov 20, 2018

Which Netflix series should you binge-watch?

(Story)

Nov 06, 2018

Cincinnati hosts coffee festival

(Story/Media)

Oct 29, 2018

Fast food by the numbers

(Story)

Oct 29, 2018
Oct 16, 2018

Seniors serve Blue Ash Elementary

(Story)

Oct 16, 2018

Earthquake, tsunami in Indonesia

(Story)

Oct 08, 2018

Iconic Kanye West political moments

(Story)

Sep 30, 2018

Top podcasts gain popularity

(Story)

Sep 27, 2018

Madeleine Weiss, 12

(Story/Media)

Sep 24, 2018

Fall survival guide

(Story)

Sep 12, 2018

U.S. News & World Report announces college rankings

(Story)

Sep 04, 2018

Businesses switch straws

(Story)

Aug 28, 2018

Netflix releases new titles

(Story/Media)

Aug 27, 2018

Netflix popularity continues

(Story)

Aug 20, 2018

Aves Theatre announces season

(Story/Media)

May 24, 2018

Science wing demolition begins

(Story)

May 24, 2018

Track relays continue to compete

(Story)

May 21, 2018
May 18, 2018

Royal wedding invitations spark controversy

(Story)

May 17, 2018

Adam Levine, 11

(Story/Media)

May 10, 2018

The Leaf takes requests

(Story/Media)

May 08, 2018
May 07, 2018

Looking at early start times

(Story)

May 07, 2018

U.S debates voting age

(Story)

May 04, 2018

Seniors reveal college gear

(Story)

May 02, 2018

Wildfires scorch southwest

(Story)

Apr 26, 2018

How popular are your prom opinions?

(Story)

Apr 20, 2018

'Into the Woods' heads into second weekend

(Story)

Apr 19, 2018

Physicists launch bean bags

(Story/Media)

Apr 13, 2018
Apr 13, 2018

Drew Lawrence, 11

(Media)

Apr 04, 2018

Scholars receive nominations

(Story)

Mar 31, 2018

What should you do this summer?

(Story)

Mar 25, 2018

When students speak

(Story)

Mar 22, 2018

Why does cereal stick to the sides of the bowl?

(Story)

Mar 14, 2018

Q&A with walkout supporter Madeleine Weiss

(Story/Media)

Mar 14, 2018
Mar 13, 2018
Mar 07, 2018

Ambassadors give back

(Story/Media)

Mar 03, 2018

AP exams creep closer

(Story/Media)

Feb 27, 2018

Maddy Weiss, 11

(Story/Media)

Feb 16, 2018

Students direct one act plays

(Story)

Feb 14, 2018

The Clouds We Carry

(Story)

Feb 13, 2018
Feb 01, 2018

Aves Theatre puts on dreamcoats

(Story)

Jan 22, 2018

Fiona captivates nation

(Story)

Jan 12, 2018

What should you do on a snow day (or for a fun winter activity)?

(Story)

Jan 11, 2018

Tackling Gender Roles with He for She

(Story)

Dec 21, 2017

2017 Year In Review

(Story)

Dec 14, 2017

How to effectively defrost your car

(Story)

Dec 12, 2017

Aves Theatre springs into action

(Story)

Dec 05, 2017
Nov 16, 2017

Aves bell bonds over competition

(Story/Media)

Nov 06, 2017

Spanish classes celebrate Day of the Dead

(Story/Media)

Oct 25, 2017

Aves Theatre opens show

(Story)

Oct 14, 2017

Would you rather: fall at SHS edition

(Story)

Oct 03, 2017

Aves Theatre plays games

(Story/Media)

Sep 25, 2017

Which Netflix series should you binge-watch?

(Story)

Sep 18, 2017

Aves Theatre Presents 2017-2018 Season

(Story)

Aug 10, 2017

Beware of faulty eclipse-wear

(Story)

May 22, 2017

Relay for life rallies

(Story)

May 03, 2017

Where have you bee(n)?

(Story)

Apr 24, 2017

Spanish classes explore Cincinnati Art Museum

(Story/Media)

Apr 20, 2017

Sophomores wrap up debates

(Story)

Apr 07, 2017

Get your game on, go play

(Story)

Mar 30, 2017

Standardized testing never stops

(Story)

Mar 14, 2017
Mar 02, 2017

Students get social

(Story)

Mar 01, 2017
Feb 09, 2017

Irena's Vow takes bow

(Story)

Feb 02, 2017

Phones provide many uses

(Story)

Feb 01, 2017

Aves Theatre prepares to perform

(Story)

Jan 13, 2017

Making words count

(Story/Media)

Dec 13, 2016

Museum takes road less traveled

(Story)

Nov 22, 2016

Aves Theatre spells "D-O-N-E"

(Story)

Nov 21, 2016
Nov 17, 2016

Pep rally sparks spirit

(Story)

Oct 12, 2016

Aves Theatre spells into rehearsal

(Story)

Oct 12, 2016

Halloween provides fearful situations

(Story)

Oct 03, 2016

Q&A with SHS alumni and Today Show dog trainer Olivia Poff

(Story)

Sep 19, 2016

Aves Theatre presents exciting season

(Story)

May 23, 2016

Summer fun: Popular summer activities

(Story)

Apr 29, 2016

Device policies change

(Story/Media)

Apr 25, 2016

Sleep equals success

(Story/Media)

Apr 14, 2016

Effects of technology on the brain

(Story)

Apr 06, 2016

Seniors charge through their last year

(Story)

Apr 05, 2016

Aves Theatre brings it on

(Story/Media)

Mar 29, 2016

Students rally money for relay

(Story)

Mar 09, 2016

Cycling spins into session

(Story/Media)

Mar 04, 2016

Standardized testing season begins

(Story)

Feb 26, 2016

The Dragonfly Foundation

(Story)

Feb 10, 2016

Siblings fit the mold

(Story)

Feb 05, 2016

Flint water crisis sparks fear

(Story)

Jan 22, 2016

Smoothie bar enters SHS

(Story)

Jan 13, 2016

Aves Theatre seniors show off their skills

(Story)

Dec 17, 2015

Holiday travel tips

(Story)

Dec 10, 2015
Dec 04, 2015
Nov 23, 2015

Seat belts click onto school buses

(Story/Media)

Nov 05, 2015

The Yellow Boat sails into theatre

(Story)

Oct 29, 2015

Lack of literature

(Story/Media)

Oct 27, 2015

Spooky spendings The high price for Halloween went down this year

(Story)

Oct 27, 2015

Helpful or Hurtful

(Story)

Oct 14, 2015

Show stopping talent

(Story)

Oct 12, 2015

Setting the stage: First theatrical performance of the year

(Story)

Oct 12, 2015

The cost to read: Money spent on school libraries

(Story)

Oct 12, 2015

Homecoming buzz takes over

(Story)

Sep 29, 2015

Theatre begins to rehearse for current season

(Story)