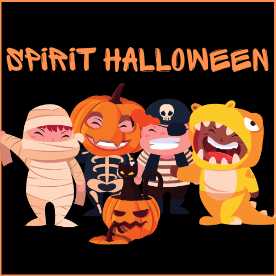 Every year, as the leaves start to turn and the air becomes crisp, something magical happens in neighborhoods across the United States and Canada. Storefronts that were once vacant suddenly spring to life with an eerie, exciting energy. This transformation can only mean one thing: Spirit Halloween is back in town. The seasonal Halloween retailer has become a beloved institution, delighting customers with its wide range of costumes, decorations, and spooky novelties. But what is even more astonishing is the remarkable profits Spirit Halloween rakes in each year. 
A Brief History
Spirit Halloween, founded in 1983 by Joe Marver and Steven Silverstein, started as a humble store in a San Francisco shopping mall. The concept was simple, providing a one-stop-shop for all things Halloween. Over the years, Spirit Halloween has expanded its operations significantly, becoming a pop-up retail phenomenon with more than 1,400 locations across North America according to Spirit Halloween. The chain, which is part of the Spirit Halloween Superstores LLC, is now a subsidiary of Spencer's, a lifestyle retail company.
Story continues below advertisement
Revenue Figures That Raise Eyebrows
Spirit Halloween has mastered the art of capitalizing on the spooky season. While the company keeps its exact financials under wraps, Spirit Halloween can gauge its profitability by examining its growth, reach, and seasonal sales figures.
Seasonal Sales Surge: Spirit Halloween stores are only open for a limited time, from mid August through Halloween. During this short window, they manage to generate substantial revenue. In 2021, despite the ongoing pandemic, Spirit Halloween reported a 25% increase in sales compared to the previous year according to the Wall Street Journal. This speaks to the brand's resilience and ability to adapt to changing circumstances in their sector.
Costume Craziness: A significant portion of Spirit Halloween's profits come from costume sales. Shoppers flock to their stores to find the perfect outfit for Halloween, and the retailer offers an extensive selection, ranging from classic to pop culture-inspired costumes. Costume sales alone account for a substantial portion of the company's revenue.
Decorations and Accessories: In addition to costumes, Spirit Halloween offers a vast array of Halloween decorations, props, and accessories. These items enhance the overall shopping experience and contribute significantly to the company's profitability. From animatronic figures to eerie lighting, they cater to the spookiest of tastes.
Online Presence: Spirit Halloween has also embraced the digital age with a robust online presence. Their e-commerce platform allows customers to browse and purchase their favorite Halloween items from the comfort of their own homes. This online channel has contributed to the company's overall profitability and is an essential component of its success.
Local Partnerships and Pop-Up Locations
One of Spirit Halloween's strategies for maximizing profits is its focus on local partnerships and the use of pop-up locations. The company actively seeks out vacant storefronts, allowing them to take advantage of existing infrastructure, while also benefiting property owners and local communities. The short-term nature of these locations ensures that Spirit Halloween can reduce its overhead costs, making its seasonal operations more profitable.
Local partnerships are also a key part of Spirit Halloween's success. The company often collaborates with local charities and organizations, creating goodwill within the communities it serves. Since 2009, Spirit Halloween has donated $77MM to 147 different agencies helping children. These partnerships often result in promotional events, charity drives, and other activities that drive foot traffic to their stores.
As long as people continue to embrace the magic and mystery of Halloween, it is safe to say that Spirit Halloween will remain a frightfully profitable venture. So, when the autumn winds blow and the full moon rises, be prepared for the unforgettable experience that is Spirit Halloween, and remember that behind the costumes and decorations, there is a spirited financial success story waiting to be unveiled.