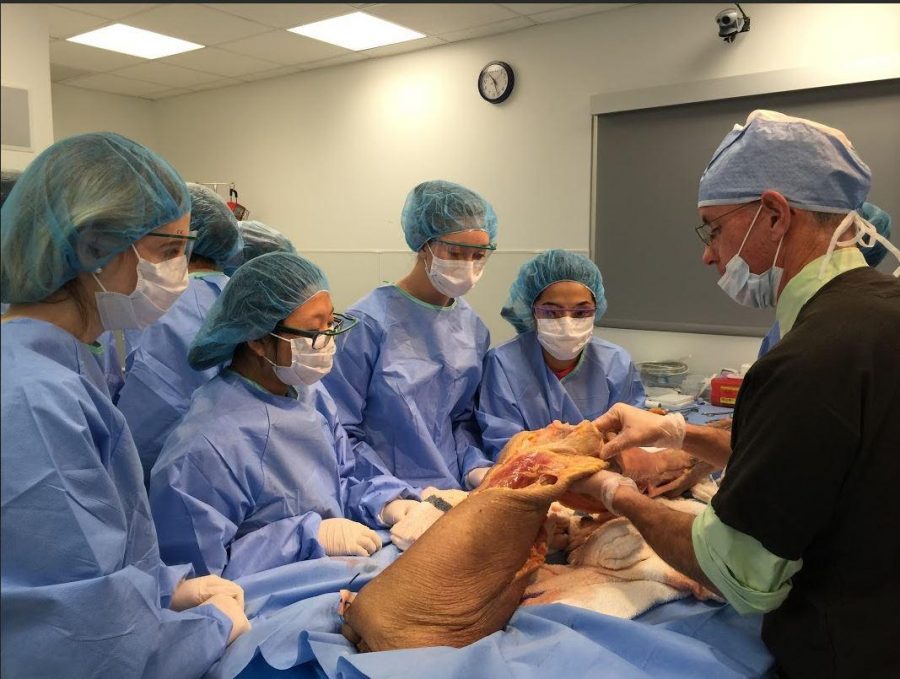 'Feet on' experience
Anatomy students examine legs in cadaver lab
15 students in Miss Danielle Scrase's Anatomy and Physiology classes went on a field trip to Beacon Orthopaedics and Sports Medicine on Thurs., March 3. There was a Beacon Orthopaedic Knee Lecture and Bio-skills Lab for them to experience.
Scrase said, "Each year is a little different than the last. I try to take students every year so that they can have the chance to experience something neat and very cool.
"It's more hands on and is truly an amazing thing that everyone should have the opportunity to experience for themselves."
The lecture was conducted by Dr. John Brannan, M.D.. He talked about the structures found in the knee as well as the functions of the various structures. The majority of the lecture focused on knee injuries and how to detect them.
Brannan demonstrated a sample knee exam to show how doctors can find injuries without any scans. He also talked with students about the weak areas in the leg and how to strengthen them.
Senior Muhammad Ashraf said, "It was really weird when he had me lay down and performed the knee exam. But, hey! I got a free knee exam!"
After the lecture, students dressed in scrubs and were divided into three groups. Each group was taken into the cadaver lab and placed at one of the three stations.
All stations had legs of people who had donated their body to science.
The first station was looking at the structures visible towards the front of the knee. Students got to touch various tendons and ligaments as well as veins and arteries.
The second station involved arthroscopy, a minimally invasive surgical procedure on a joint in which an examination and sometimes treatment of damage is performed using an endoscope, which is inserted into the joint through a small incision.
An endoscope is a medical device with a light attached.
Students were shown how to use the arthroscope to locate different structures within the knee. Then they were allowed to maneuver the scope and even insert medical tools through another incision to cut tendons or ligaments.
The last station was a more thoroughly dissected leg. The fellow, a physician who is super specializing in a field, cut through structures in the knee to show how injuries would affect a person. He also showed students how to stitch the leg closed.
Afterwards, students were able to practice different stitching techniques on the leg.
Once many of the students had left, those who stayed behind to learn more were able to witness his dissection of the foot.
Ashraf said, "I really enjoyed going on this field trip. We got to do something the many people might not get to do. I learned a lot and had a lot of fun doing so."