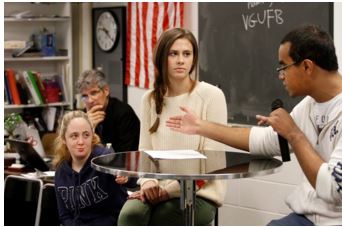 Sophomore debates approach
Entrepreneur Ruzwana Bashir once said, "The power of real debate is in the language and intellectual honesty of the debaters, alongside the engagement of spectators."
Sophomores will certainly pay attention to this piece of advice as they prepare for the annual sophomore debates that will occur the week of May 16.
The dates are still being determined because of the freshman days scheduled for that week as well as the seniors' last days of school.
The topic of the debate will be announced on Fri., Apri. 8.
English teacher Mrs. Beth LeBlanc said, "We are still working on the debate topic. It may have to be something more narrow because there is less time for sophomores to prep for debates this year."
"Last year, there was around six weeks for sophomores to work on their debate speeches, but this year there is only around four weeks."
Students are worrying about timing constraints, especially with AP finals and exams coming up.
Sophomore Stephanie Hong said, "This is so stressful. I wish we could have started this earlier. I already have to worry about studying for APs."
English 10 Honors students have already begun preparing for debates, hosting mock debates and working on their argumentative skills. Meanwhile, English 10 Accelerated students are still finishing up on multigenre projects for Khaled Hosseini's The Kite Runner.
They have worked a little bit with argumentative writing throughout the year but have not focused on it recently.
Hong said, "We did an argumentative essay in second quarter and we've done a few writers' notebook entries, but we haven't done anything as far as debates go anytime recent."
Groups will be announced the week of April 11.