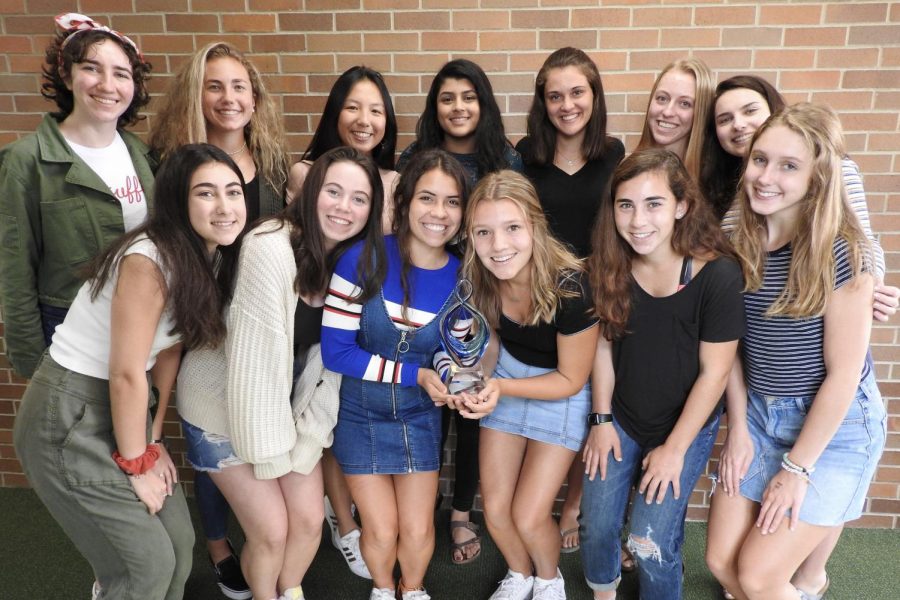 Fashion for the Cure receives recognition
Ever wonder what could happen when you put passionate high school students together to work for a common cause?
Just take a look at the Fashion for the Cure (FFTC) committee.
Since 2014, FFTC has supported The Dragonfly Foundation (TDF), which is a Cincinnati non-profit aiding pediatric cancer patients and their families. According to the committee, 100 percent of the proceeds they raise from their fundraising efforts are donated to TDF.
As of today, records show that they have donated over $148,000 to the nonprofit as well as countless hours to their mission.
In order to accomplish this feat, the 15 member committee begins working the summer before, allocating nearly nine months of the year into planning the event as well as quarterly fundraisers. 
"The girls are all responsible for individual jobs as well as contacting local companies to put together baskets for our basket raffle. We also meet once a week during the lunch bell to plan out the details for our show in addition to brainstorming new ideas to raise more money for The Dragonfly Foundation," said Eva Armbruster, 12, who is one of the 2020 co-chairs.
All this hard work does not go unnoticed.
As for the committee's teacher advisors, Mrs. Debbi Klemt and Mrs. Sarah Chapman, they "love seeing the passion come through each and every one of the committee members." 
But those who are proud of the FFTC committee go beyond their teacher advisors.
On Sept.27, The Dragonfly Foundation formally recognized FFTC as the 2019 recipient of The Dragonfly Impact Award.
The Impact Award was created "to recognize Dragonfly Supporters who have made an important impact helping us meet our mission, raise awareness and engage the community," said Ria Davidson, the co-founder of TDF.
When specifically asked why FFTC was the 2019 recipient, Davidson notes how "Fashion for the Cure's dedication and contributions to The Dragonfly Foundation" played a major factor in the decision. Because of their generous contributions, FFTC has greatly impacted many children with cancer and their families.
At the end of the day, Armbruster notes that "Fashion for the Cure is all about supporting The Dragonfly Foundation with the hope of easing the difficulty of having to deal with cancer that these families have to battle every day."
To learn more about FFTC x TDF, click here