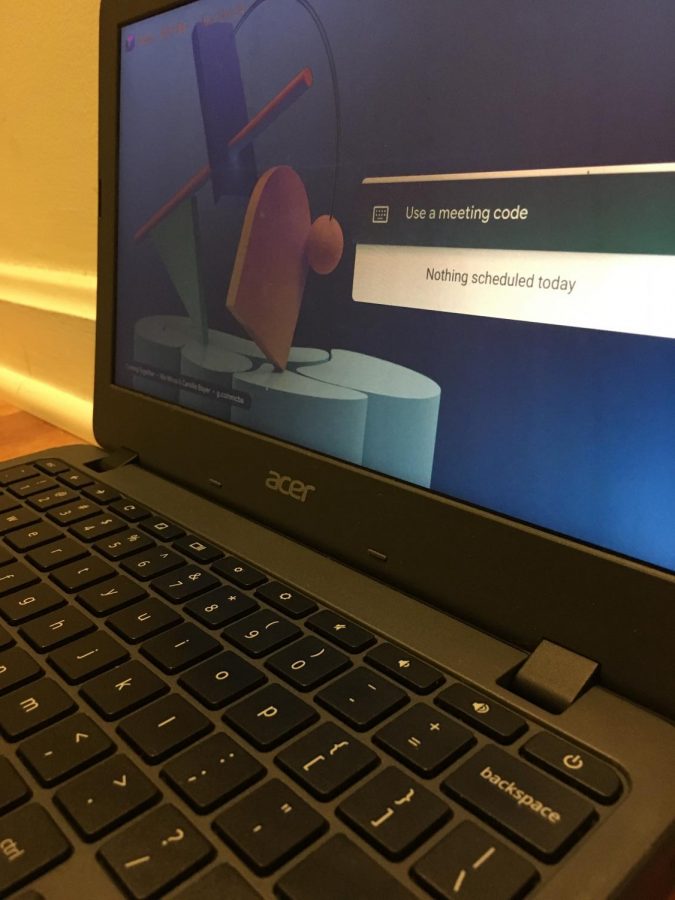 Fact vs. Fiction: what will the virtual week of school really be like?
   As we approach the end of Thanksgiving break, many SHS students are wondering what the upcoming virtual week will bring. While virtual students are already acclimated to this type of learning, those who chose to attend face-to-face this year may be dreading online learning, picturing a chaotic and unorganized experience similar to the virtual learning we all endured this past spring. However, the virtual learning week could be different than you might think. I interviewed SHS principal Mr. Doug Mader about the upcoming week in order to clear up any misconceptions or confusion students may have. Read below for the Q&A!
How will virtual learning the week after Thanksgiving break differ from virtual learning last spring?
"You know, in the spring we were just thrown into it, so we had no real prep time. And we didn't have good guidelines to go through it, so it was really, how can we get instruction across that doesn't stress kids out, and we knew there [were] inequities. So that's why we went to the pass/fail system. This time, we've had plenty of time to practice with our virtual students. We have probably about 90 teachers in the building live streaming out of the room. So this time we've been ready, and we've talked about it all year that we need to be ready at a moment's notice to go into it. So I think the lessons will be much better defined. There'll be more interaction between teachers and students. And we were able to have time to onboard students starting [the Thursday before break]… We have some teachers that will be teaching every day, through Google Meet or Blackboard Collaborate. And then we have other classes, maybe like an art class, if the project is to draw a self portrait, [where the structure could be], 'Okay, this is your assignment for the week, but we're going to check in on Tuesday Thursday and Friday to make, make sure everybody's on pace.'"
Will classes typically be required to meet virtually every day, and will attendance at these virtual meetings be required?
"It depends on the content, the project, the topic at hand. I would venture to say that the majority of the core classes will meet every day. Some of the electives or, you know, the minimum requirement is teachers must do some type of interaction, either Google meet or Blackboard Collaborate, three times a week. It can be as short as 10 minutes, but they have to see students…Attendance will be done just like if you were in school. Everybody will have to check in on their second bell; that's our daily attendance. And if a teacher says, [for example], we're meeting on Wednesday third bell…and that's your normal bell and you're not there, they'll turn them in for skipping."
Will all classes be required to meet at their regularly scheduled time, or will there be flexibility in the timing of the school day?
"They will be required to meet at their scheduled time so there's not overlap. Every teacher has two bells off. So one of those bells will be their office hours…in addition, fifth bell is that long bell, so they'll be required to teach for 43 minutes. They have a half hour lunch and then the rest of the time will be office hours, so students have time to schedule a meeting."
What factors will determine whether we can return to face-to-face learning as planned after one virtual week or extend the virtual learning time? 
"So, the district has a team called the [Data Assessment Risk Team (DART)] that's comprised of District officials, and also two doctors and somebody from the health department, and they examine all the data for our zip codes in this area…what's the spread like, what's happening in the school, all those different things. So they'll continue to examine that data while we're out. Right now we're coming back [to school as planned], unless there was a big spike in our zip code area."
Is there any chance of some schools in the district returning in person, while others remain only virtual?
"Yeah, I think [the DART team will] dig down into that data really deep. One of our concerns is the college kids coming home, and how that will spread. So, we'll take a look at that; we look at our teaching data too, you know, how many teachers caught [COVID].  So, a lot of things will go into that [decision]."
For face-to-face students who have experienced virtual learning this year due to quarantining, will this week of virtual classes be similar in structure to that experience?
"It's going to be different because your face-to-face teachers won't have kids in front of them, so everybody will be virtual. So it'd be much better than a quarantine situation where a teacher is doing face-to-face and they can't connect with you right then, so then you're kind of doing things on your own and reaching out to them…this will be much better than being quarantined."
Anything else you would like to say to the students and staff?
"I think with this student body and with this teaching staff, I think we'll do it right. I think it'll be a very successful week. I think it's going to help get away from the mask fatigue that we all have…So I think that's going to do us all some good to take a week, and we'll see how it goes…if it's successful and we need to take another break sometime, because of the increasing cases, we know what works well [and what] we need to fix."