Envisioning an End
A review of the conclusion of the "Wandavision" Series
March 9, 2021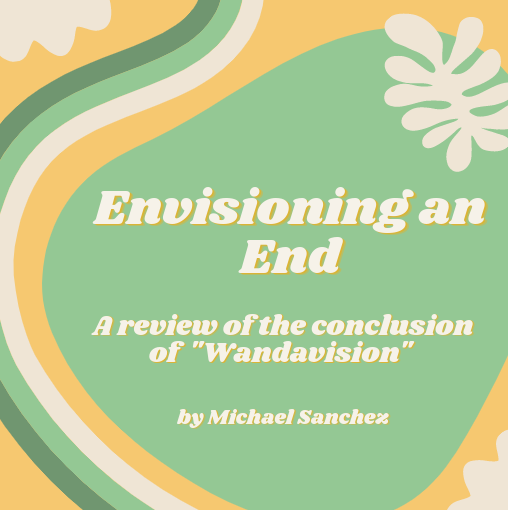 Coming from someone who is a huge fan of Marvel movies. I had high expectations for WandaVision. Did the show reach my expectations? Yes, kind of. 
   Let me explain. 
    Before I explain my thoughts behind WandaVision and spoil some important parts of the show, I highly recommend watching WandaVision. I would give it an 8.5/10, as my complaints about the show really only revolve around the many theories I heard and unrealistic expectations of the show (i.e. The Xmen making an appearance or other comic book characters being integrated within the Marvel Cinematic Universe (MCU)). One thing to remember about this show is that it is Wanda's story. How she dealt with her grief and how she overcame it throughout the show. It is innovative and different from anything you have ever seen. To the common viewer who has never seen a Marvel movie, this show will not make much sense, so I recommend getting caught up on all your MCU movies first.
   The first three episodes had this early T.V. sitcom vibe, which I did not mind, and the subtle details like the aspect ratio changing in between scenes from Sitcom style (which is 4:3 aspect ratio) to the MCU basic 2.4 aspect ratio. It was different and innovative. The story during the first three episodes was kind of bland but had this ominous vibe to it that kept me coming back week after week. Every episode seemed to have a cliffhanger or minor reveal—which I hated. Viewers had to wait a week for a new episode to come out, something that I actually thought gave a nice pace to the show. We had something to look forward to at the end of each week instead of binge-watching the show in a day. After the reveal of Fox's Quicksilver in episode five, for example, viewers were left on a huge cliffhanger, speculating for a week about different theories. However, in my opinion, this huge cameo in WandaVision just seemed useless and like a throwaway moment of the show. This is one of my main complaints. This would have been an awesome moment done right, like if they had introduced Mutants or The Xmen in the MCU, but again this was just wasted potential.  
   Now the series finale, or in other words—the climax. Needless to say this was a perfect ending. Wanda came to terms with her grief and knew what was best for her and the people of Westview. She took down her reality, which caused Vision and her kids to "die" and she left the show at peace, something I really enjoyed about the finale. Even the action was enough to keep me satisfied. 
   The best part of the finale, however, was the end credit scene. End credit scenes are there to tease the next Marvel project. The end credit scene in Wandavision was teasing Wanda discovering more about her power and setting up Doctor Strange: Multiverse of Madness among other Marvel projects. This gave me hope for the future of Marvel. 
   Overall I really enjoyed this show and am really looking forward to future Marvel projects such as Falcon and The Winter Soldier, coming to Disney+ in less than 2 weeks.