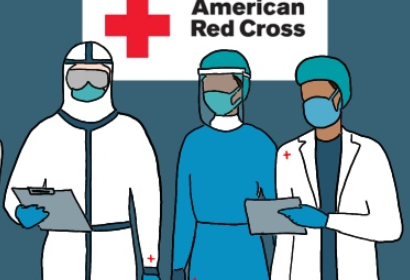 National Red Cross Month
Honoring those who risk their lives to keep us safe
Think about all the times you have fallen and hurt yourself. If it was severe enough, you may have even gone to the emergency room. Along the way, you might have encountered several nurses, doctors, and other medical professionals who helped you and made sure you were comfortable. All around us are medical workers who constantly provide us with professional help to make sure we are safe and healthy and, when we are not, that we recuperate quickly and comfortably.
   As some people may be aware, the month of March is known as National Red Cross Month. Especially in this time of uncertainty, every one of us should take the time to appreciate those who are always there to help us when we need it most, sometimes even risking their lives to ensure our safety.
   Several types of medical professionals surround us in our daily lives. There are EMTs and first responders, surgeons, anesthesiologists, pediatricians, nurses, veterinarians, and psychiatrists, just to name a few. Each and every day, our front-line workers ensure our safety and health and provide us with the help we need. If we happen to injure ourselves or get sick at home, we take a trip to the doctor's office. If we feel unwell during the school day, we go to the nurse's office. These medical professionals take the time out of their day to help us when we need it because helping others is what they chose to spend their lives doing.
"I've had family members who have been in the service industry such as firefighters and police officers. Not nurses, specifically, so really it was a family friend who guided me into nursing. Once I started to learn more about it, I knew that I really felt like I could make a change and help people stay healthy and get healthy if they were not. Just helping [others] stay healthy and make healthy choices [is] really rewarding for me," said Ms. Jennifer Ferris, a nurse at SHS. 
   As we continue to go about our daily life during the pandemic, our healthcare professionals work with those who have fallen ill, whether it is from COVID-19 or from something else. Though these professionals have faced these kinds of risks for a great amount of time, the risk is much greater now. And for some of us, these professionals are our family.
   "My mother works with several patients every day, some of which have COVID-19. Even though she takes all of the precautions necessary, it is still scary every time it happens and I am always worried about her," says Kiran Makkad, 7.
   We take most of the care that medical and healthcare professionals give to us every day for granted. As the pandemic rages on, more and more people risk their lives to keep us safe and healthy. Many  of these workers are not just doctors or nurses, but other essential workers who put in the time and effort to help others in ways that doctors may not.
   "These hardworking heroes are keeping Americans fed, picking up their trash, providing them life-saving medicine, delivering their groceries and packages, preparing their food, cleaning their hospitals, caring for those who are most vulnerable, and keeping us safe—often while earning low wages and few benefits," says Molly Kinder from the Brookings Institution.
   However, these essential workers who help us are getting paid and recognized less and less, shadowed behind the nurses and doctors risking their lives to provide us with the help we need when we need it. 
  "Nobody recognizes those workers that are really on the front line. People are recognizing doctors and nurses. But they're not recognizing dietary, environmental service, CNAs," hospital administrative coordinator Tony Powell said in an interview with the Brookings Institution. "These are the people doing all the main grunt work that has to be done. Nobody is telling them, 'We appreciate what you do. We realize you have a family. We realize you are underpaid. We realize you are understaffed.'"
   National Red Cross Month is here. It is your chance to show appreciation for the medical workers who fight for us every day. Especially in this time of uncertainty, it is important to not take anything for granted. There are countless healthcare workers in our community who are always there to help us, including both doctors and other essential workers. Show your appreciation for them by being there for them too.