Cincinnati concert crowds cause chaos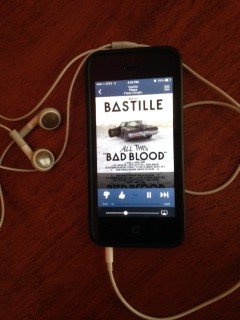 People say that the concerts they go to are some of the best memories they have and they will never forget them, like their first Justin Bieber or Coldplay concert.
"I still remember my first Taylor Swift concert, the loud music and lots and lots of people." freshman Yasmine Guedira said.
Some of the concerts coming soon to our very own U.S. Bank Arena and Bogarts are the Janoskians on Thurs. Oct. 2, Bastille on Oct. 17, and Hoodie Allen on Nov. 3.
Janoskians is an acronym for Just Another Name of Silly Kids in Another Nation. The group consists of brothers Beau, Luke, and Jai Brooks, and their friends James Yammouni and Daniel (Skip) Sahyounie from Australia. Their fans call themselves Janoskianators.
The group started in 2011 as YouTubers on their channel "Janoskians" where they filmed pranks, mockumentaries, dares and skits. Their concert is a combination of performing their singles and interacting with the crowd.
Bastille is an English rock band that started in 2010. The lead singer Dan Smith came up with the band name because his birthday is on Bastille Day. The members are Smith, Chris Wood, William Farquarson and Kyle Simmons.
Bastille's number one hit was "Pompeii," which was on the album "Bad Blood" and was named the U.K.'s most streamed song of all time. The band's fans call themselves Stormers, as in 'storm the Bastille,' according to Smith.
"I am so excited to finally see Bastille in concert next month because I have been a Stormer since Bad Blood came out in the U.S," Guedira said.
Hoodie Allen, whose real name is Steven Markowitz, is a 26-year-old New York native who is a self-titled artist. He and his childhood friend, Samuel Obey (Obey City), started writing songs in 2009.
Although Obey stopped recording with Allen in 2010 for unknown reasons, Allen has kept recording and is still putting new albums out. His latest release is "All American." The Hoodie Mob, as his fans refer to themselves, enjoy Allen's livestreams.
Whether it's the Janoskians, Bastille, Hoodie Allen or any other band, the experience of seeing them play their music live can create memories that will last a lifetime. To see more upcoming concerts in our area visit Concertful.
Also check out the Janoskians YouTube channel.
"In concert you get to actually see them and you realize they are a real person and it is so amazing and the experience is exhilarating." Guedira said.