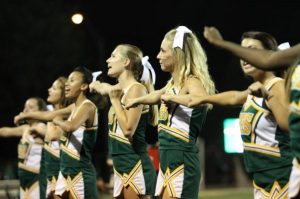 Every Friday night, most of us are at the field cheering on our Varsity Aviators alongside the cheerleaders. These events become some of the greatest memories of high school.
We have had so many memorable events occur at those games such as crowning Homecoming king and queen, victorious wins, and even the first home game of the season that no one will forget because of the railing falling.
"I am really going to miss cheer. I have made so many new friends on all of the squads and I have had so much fun at the games," said Natalie Itrich, 12.
There is only one thing that we are forgetting: Senior Night.
Story continues below advertisement
While the night can be fun and a great memory for teammates to hold onto, it can also be sad to see the season coming to an end.
"I love the seniors and I am going to be so upset when the season ends because that will be the last time I get to cheer with them," said Taylor Gardner, 11.
There are four seniors on the Varsity cheerleading squad out of 17. The Senior Night will take place Oct. 25.
"I have gotten really close with all of the seniors and I will be sad to see them go, but I am so excited for a night to give them the recognition they deserve," said Clara Chuey, 11.
Even though Senior Night falls on the last home game of the season, it is anticipated to be a bitter sweet night