Different ALICE training brought to ACE meetings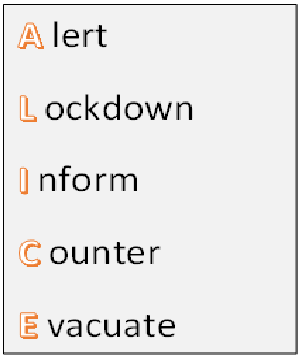 The administration has decided to change the way students learn self defense. During ACE meetings, students will learn even more effective ways of protecting themselves at school by learning ALICE training.
"ACE bells were put in place as a way to deliver information," administrator Karen Bare said. "It is an effective way to deliver mandated training from the state as well as cover topics identified by the school as important."
One of the programs mandated by the state is a new form of ALICE (Alert, Lockdown, Inform, Counter, Evacuate) training that teaches students the reality of the situation by showing graphic pictures.
"Every year we do an ALICE refresher," Bare said, "The information we present in ACE is important and necessary, and I am in favor of the additional ACE bells."
However, some parents believe that extra bells for training are a waste of time, and that students do not need to see the graphic images shown.
"I feel that ALICE training is important to maintain safety in schools," freshman Thea Ferdinand said. "It helps students to think critically about real life situations."
Despite varied opinions on the topic, ALICE training is to be held this school year during ACE bells.