Protests erupt in Hong Kong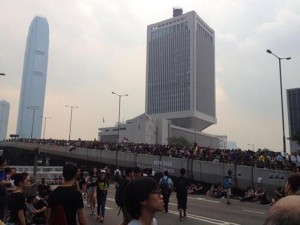 Hong Kong citizens gathered together last Fri. in pro-democracy demonstrations. The protests escalated Sun. when they were met with a strong police response.
In the 1997 hand-over of Hong Kong from Great Britain to China, the mainland Beijing government agreed to let Hong Kong enjoy "a high degree of autonomy" under a "one country, two systems" arrangement.
"Our head of government is the chief executive," former SHS student and Shanghai resident Patrich Co said.  "He is elected by an electoral college that is generally pro-Beijing unlike the majority of the Hong Kong population. In the deal between the U.K. and China, Hong Kong would be allowed to democratically elect its own CE [chief executive] by 2017."
However, last Aug, Beijing officials announced that candidates in Hong Kong's 2017 elections would be pre-approved by a pro-Beijing committee, therefore violating its prior agreements.
"Hong Kongers are furious as well as frightened at China's premature breaches of its agreement with the U.K, fearing that their autonomy and democracy will be taken away," Co said.
Student groups took to the streets and boycotted classes in protest of the announcement. The activist movement Occupy Central then joined in and launched a civil disobedience campaign. By Fri. evening, hundreds of protesters occupied the downtown area.
The police responded with force, pepper spraying protesters and intimidating them with guns. As more protesters joined in on Sun, police escalated their efforts, using tear gas and water cannons to disperse crowds and threatening to shoot protesters with rubber bullets.
"I am dismayed at how quick the government was to use riot police, pepper spray and tear gas," SHS alumnus and Hong Kong University student Subira Popenoe said. "The protesters have not been violent or destructive at all and do not deserve such treatment."
The protests have been compared to the Tiananmen Square protests of 1989, where the Chinese military brought in tanks and fired upon unarmed protesters, resulting in thousands of casualties.
Occupy Central organizers have said that they will not stop until Beijing abandons its Aug. decision. So far, the Beijing government has showed no signs of giving in.
"It would be amazing to get Beijing to recognize our sovereignty and to honor the agreement with the U.K," Co said. "However, I'm not so sure how much we can change when dealing the Beijing."