JSU crafts candy sukkahs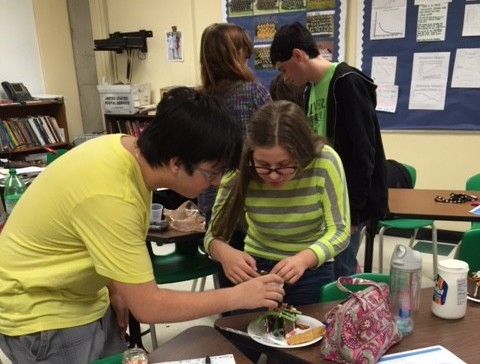 SHS' Jewish Student Union (JSU) went all out during its second meeting with a graham cracker and candy sukkah building competition. The meeting was held on Oct. 9 in room 130 right after school. Students were excited to grab fresh pizza as they entered the room.
Following a theme of "Sukkos Style" (also known as Sukkot), things started off with a bang as a great holiday music video spoof to the tune of Gangnam Style was played. The video naturally sparked the interest of club members as to why Jews even have this holiday.
JSU Club advisor Leora Balk spoke of the history, symbolism and modern-day relevance of the sukkah. The sukkah is a temporary house or hut outdoors that Jewish people build and dwell in for seven days at this time of year.
The sukkah is an expression of belief as well as trust in God. Many centuries ago, the Jews wandered the desert on their way to the land of Israel and they too dwelled in sukkahs. Travelling in those days was dangerous. The Jewish nation did not give up faith, and as the belief goes, God protected them year after year until they finally reached Israel.
No sukkah looks the same. The custom is to decorate each sukkah to beautify it and make the holiday special. JSU members got to see pictures of all different kinds of sukkahs around the world. Then, it was time to 'build' and design their own.
"Every year my family builds a sukkah. We always take a picture of the sukkah being set up and when it's totally finished. I really like the before and after pictures," senior Michelle Leshchinsky said.
Over 20 students participated in the contest. The competition was either taken seriously by students, or just to mess around and have fun. Students had the opportunity to show off what they knew about sukkah.
"I always like a challenge, especially if it's related to Judaism," senior Enrique Rosen said.
When the meeting was coming to a close, Balk announced the winner, Emily Willis, and gave her a huge chocolate bar from Israel. All the students posed for a picture with their candy sukkahs, and just ended up eating their creations.
"I can relate to so many people in this club. I feel right at home," junior Michael Heyn said.