Alternative band releases new songs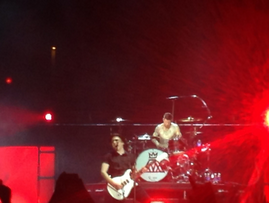 The band "Fall Out Boy" has come out with two songs in the past month, one of which will be featured in the upcoming Disney movie "Big Hero 6."
"'Immortals,' to me, wasn't as good as 'Centuries.' 'Centuries' has more of a powerful meaning behind it and just the overall sound was more intense. 'Immortals' is still an excellent song, but it's more electric sounding," freshman Sarah Gilmore said.
'Centuries' came out Oct. 8 and although 'Immortals' was supposed to come out Oct. 14, it got leaked on Oct. 13. The band members are very excited for this new song to be featured in a movie.
After their latest album "Save Rock and Roll," fans agree that these two songs are a step up and they have a much better message.
"In 'Centuries' he [Patrick Stump] says that one mistake will follow you for the rest of your life, so every action counts, but it also means you have the opportunity to make an impact," freshman Anne Baldwin said.
'Centuries' and 'Immortals' both have very different messages and very different sounds to them. Fans think that 'Immortals' is not as intense as their other songs because of the fact that it will be in a Disney movie.
"Although I really enjoy the song 'Immortals,' I feel like'Centuries' has a better message. I definitely think that both of these songs are great and I'm really excited for 'Immortals' to be featured in 'Big Hero 6,'" freshman Nicholas Allen said.