Water polo scores in state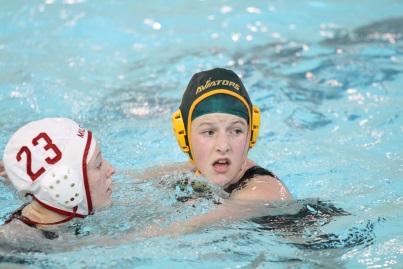 The Ohio girls state tournament was held on Fri. Oct. 17 and Sat. Oct. 18 at both Mason High School and SHS. The girls first game was against Kilborne High School at Mason. SHS won this game with a score of 18 to 3.
Next, the team had to take on Napolean High School. Previous to the state tournament, SHS had lost to Napolean once, tied Napolean once and won against Napolean once.
"We knew going into the game that Napolean was going to be a tough opponent. We tried to mentally prepare ourselves as best as we could to get ready to play," junior Courtney Reardon, said.
Napolean ended up winning the game by one point after a comeback in the fourth second half of the game.
"At one point we were up by four points. We started off the game really strong but we just lost our momentum toward the end and Napolean really capitalized on that," Reardon said.
Since they lost that game, SHS moved on to compete in the game for third and fourth place against Milford. Napolean went on to play in the State Championship game against Upper Arlington.
The team beat Milford by two points in overtime which put SHS in third place overall at the state tournament. Upper Arlington ended up winning the tournament after defeating Napolean, 15 to 7.
"The game against Milford was really close. I was really proud of all of the girls for stepping up and staying strong throughout the entire game. It was great to end the season on a win," said Reardon.
The top seven finishers in the tournament are as follows, in order from first to seventh place:
Upper Arlington High School
Napolean High School
Sycamore High School
Milford High School
Thomas Worthington High School
Mason High School
Kilborne High School
The boys state tournament will be held in Columbus, OH on Fri. Oct. 24 and Sat. Oct. 25. For more information on both the boys and girls state tournaments, click here.