Abele takes third in the state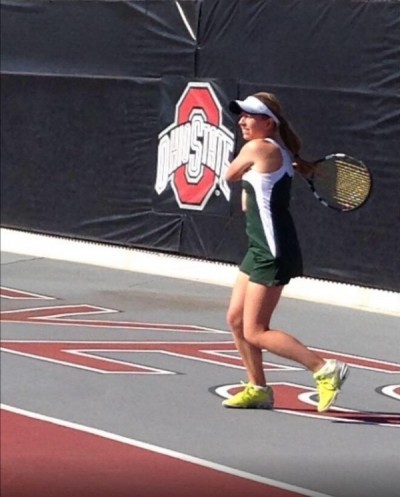 First singles tennis player and junior Alexa Abele was the only one to move on to the final rounds of the individual state tournament. While her teammates fell earlier in the tournament, and junior Margaret Skwara fell just short of getting to the state final four, Abele continued her winning ways, and qualified for the final four.
This was Abele's first time going to the individual final four tournament, which is held in Columbus, OH. Abele and her team left for state after the schoolwide send off on Thurs., Oct. 16, where she would play to win the individual state team title.
At state, Abele had the opportunity to play two matches. The first one, if she won, would qualify her for the final two of state. If she lost, she would play for third in the state.
On Sat., Oct. 18, Abele lost her first match 6-2 6-4, which would lead her to her next match, which would be to win third in the state. Abele played her second match later that day, which she won. Abele had won third in the state, a very prestigious ranking.
  This was the final match of the girls season, finalizing captains and seniors Jamie Pescovitz and Sneha Rajagopal's SHS tennis careers.