Class of 2018 prepares to pay for Prom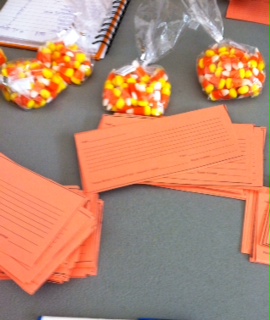 Fundraisers take all different forms. For example, the freshman class created 'Corny Corn'. This money raising event had students buy bags of candy corn, for the holiday spirit. Each bag of candy corn contains a corny joke.
"I think they will like the corny jokes because they are all different and it will be fun and maybe pump up school spirit," freshman Kaitlin LeBlanc said.
The sale took place on Oct 29, 30, and 31 for one dollar each. The bags were delivered on Friday, Oct 31 at the end of the day the bag might have had  a hand written note attached.
"We are hoping this sale will get the class of 2018 a jump start for the 2018 prom budget," LeBlanc said.
Each grade is responsible for paying for prom during their junior year. They do this through various fundraisers during the year.
"We started raising money freshman year and we're still raising it even though Prom is this year. We can use all the money we can get," junior Madeleine Driscoll said.