Oscar Taveras dies in car crash
The sports world was shaken on Sunday, the 26th of  October, with the tragic death of 22-year-old Oscar Taveras, a new major leaguer that rose through the St. Louis Cardinals minor league system.
He was called up in June when Matt Adams suffered an injury. He died Sunday in an automobile accident in his home country of the Dominican Republic.
He was behind the wheel of a red 2014 Chevrolet Camaro, traveling through the city of Puerto Plata, when his car struck tree that was on the Sosua-Cabarete freeway at 7:40 p.m. local time.
He died in Sosua Cabarete Medical Center while receiving treatment on multiple injuries on his upper body a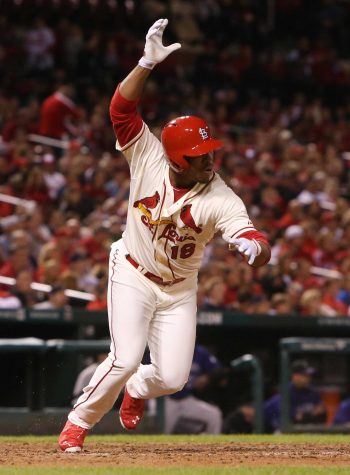 nd head. His girlfriend Ydelia Yamelis Arvelos also died in the crash from trauma to the brain and torso.
He signed with the Cardinals at the age of 16 from the Dominican Republic for $145,000. He then worked his way through the Cardinals minor league system and won MVP of the Double-A Southern League in 2011.
He exploded on to the MLB scene homering in his second major league at bat, and many experts were calling for him to morph into a perennial all-star candidate and a future batting title candidate.
He then went through struggles only hitting .239 the rest of the season and the Cardinals generally kept him in reserve.
Even though he was reduced to pinch hitting during the playoffs, Taveras found ways to contribute. He only struck out once and hit the biggest homerun of his career, tying Game Two of the National League Division Series at 3-3. That was his last at bat ever.
"It is so sad to see a player that was about to make it only to just loose his chance by something like this. Everyone has the dream to be a pro athlete and to see him have his dream taken away is heartbreaking." Sophomore, Josh Glynn, said.
We have seen this all too often: players that were on the upswing, had lots of talent and promising futures, were taken from right in front of us.
Whether it was a drug overdose like Len Bias, the second overall pick of the Boston Celtics in the 1986 NBA Draft, or the victim of a terrible crime like Sean Taylor.
Taylor was the fifth pick in the 2004 NFL Draft by the Washington Redskins and was shot when an intruder entered his house eight days after a burglary in 2007. He bled out and died the following day in a hospital.
Taveras was another one of those athletes, which had the potential to become a star and was working hard to become one, until a car crash ended his life. He was a source of untapped, raw, talent that will always be just that.
We should remember him in the image that he crafted while he worked towards his goal. We should remember him as a hard worker, a man who worked his entire life to get to a point that was snatched from him when he was so close to achieving it.
The death of any athlete is a hard one for us to overcome. They are our idols, our role models.
Derek Jeter, one of the great talents baseballs has seen, received his fan fair and a sendoff from baseball that would rival anything the Olympics could produce.
Taveras did not get a big send off. We should mourn his passing the way we mourned Jeter's retirement, except more so, you will never see Taveras ever again.
Our prayers and condolences should be with the two families' that lost their children. It is so unfair that two people, so young, were taken from this world without the ability to fulfill their dreams and ambitions.