Oreos represent deeper meaning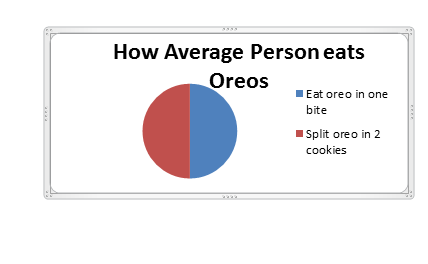 The way people eat cookies can give a deeper insight into the minds of the human eating. The technique of eating an Oreo can now be seen as a personality test.
" That really surprising because I never really thought of it like that and I have been eating Oreos my whole life," said sophomore Madeline Sykes.
There are 9 ways to actually eat the cookie.
The whole thing at one
One bite at a time
Slow nibbles
Fast nibbles
Dunked in liquid
Twisted apart and cream eaten first
Twisted apart and cookie eaten first
Just a cookie not the inside
I don't like Oreos
" I think I have a combination of methods I use to eat an Oreo it's hard to pick one," said  sophomore Priya Malla,10.
The corresponding personalities for the above list
You are carefree and exciting
You're normal and aren't too creative
You follow the rules and are neat and tidy
You live life at a high paced speed
You're a very upbeat person in general
You're naturally very curious
You're good at business and a risk taker
You like pain
You are probably a rich person who likes to be pampered
"I think Oreos are great and I personally pull them apart then eat the cookie first," said sophmore Yuto Nakhata
For more information on how Oreos relate to personality and fore a deeper explanation  of the traits mentioned above go to.