'It is amazing what one girl can start'
Girls basketball players reflect on Lauren Hill story
The Xavier Cintas Center was filled with over 10,250 spectators-completely sold out. Mount Saint Joseph University player Lauren Hill took the court for her first, and possibly last, time ever on Nov. 2.
After being diagnosed with DIPG (Diffuse Intrinsic Pontine Glioma) a fatal disease, Hill was given months to live, and one last chance to play the game she loved.
Hill's inspirational story does more than just raise money and awareness for cancer; it serves as a reminder for many to cherish life, and avoid taking our daily expectations for granted.
Members of the girls Varsity basketball team were both moved and touched by Hill's story, and some were even in attendance at her big game that afternoon.
"Watching that game has really made me think about how lucky we are to be able to play basketball. She [Hill] wants to play so badly and I realized I take it for granted a lot," junior Taylor Miller said.
Former Varsity team member Hannah Melvin 14' is able to share some understanding with Hill. After suffering a stroke before her senior basketball season, Melvin's return to athletics was deemed questionable.
"Hills story really opened up my eyes because I am fortunate to have overcome something awful and still be able to play sports that I love," Melvin said. "I can only imagine how it feels to wear that jersey for a few more games."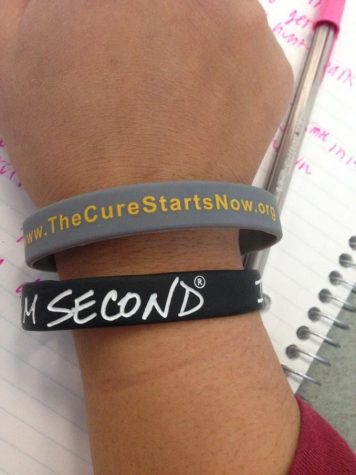 Despite having only months to live, Hill's passion for the game is undeniable. Former Tennessee Lady Vols coach Pat Summit attended Hill's first game, presenting an award for courage to the dedicated athlete.
Lauren Hill may even be featured on the front of her own commemorative Wheaties box, standing among other sporting champions.
"That's what I love most about her," Melvin said. "In her interviews she [Hill] said that as soon as the doctor told her she would die soon she still asked if she could play basketball. She still wakes up at 5:30 am to train with her team because she loves the game so much."
Hill's dedication and passion has earned the attention of many, including famous NBA player LeBron James and WNBA player Skylar Diggins. The support for cancer and donations for research have spiked since Hill's last game, with thousands of dollars raised at the game.
"Ever since I read and watched her story I have been really interested in DIPG and I have gotten a lot of my family members to donate. At the game on Sunday we raised over 40,000 dollars all because of Lauren Hill," Melvin said.
To contribute to the cause, visit The Cure Starts Now website, or join the Layups for Lauren page on Facebook.
"It is amazing what one girl can start," Melvin said. "It is people like her that inspire us to live our lives to the fullest every day."
Scoring two layups in her brand new gray uniform, Hill assisted her team in the 66-55 victory over Hiram College. In a WLWT interview with Mike Dardis, Lauren Hill pronounced her first college basketball game as 'the best day of her life.'