Injuries create short bench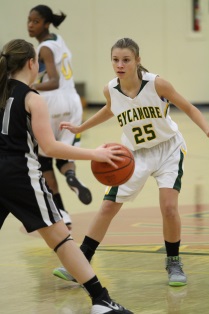 The Junior Varsity basketball team is made up of nine players. The players are:
Laura Setser, sophomore
Allison Flavin, sophomore
Lena Harper, sophomore
Abigail Hallock, sophomore
Claire Hallock, sophomore
Victoria Bell, sophomore
Hannah Williams, freshman
Kate Dunne, freshman
Mackenzie Kandel, freshman
There are five players on the court at a time. This leaves a bench of four people, which is already a small team. However, the team has suffered many injuries this year. The players who are injured are:
Flavin
Williams
Dunne
Kandel
This leaves the rest of the team with no substitutes. To compensate for this, the team has brought up players from the Junior Varsity B team to play in the scrimmages.
"I can't wait for my teammates to be healthy again. The lack of subs is not only hard on us physically, because we have to play the whole time, but it also messes with our team dynamic," said Setser.
All of the basketball teams will compete in their first game on Nov. 29 against St. Ursula.
"St. Ursula is a really tough team but I'm still excited that we get the opportunity to play such a good team. Hopefully, our injured players will be back by then," said Setser.
For more information on SHS basketball, click here.