Still's battle garners comprehensive support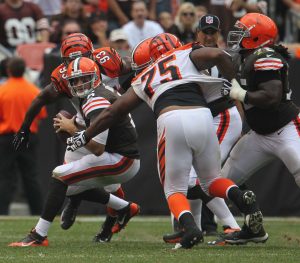 Despite the recent controversy that has surrounded Ray Rice, NFL fans everywhere are still united in support of one cause: fighting cancer. Pink towels and cleats are common sights during the month of October, which is breast cancer awareness month.
However, the idea of battling cancer hits closer to home. In June 2014, Leah Still, daughter of Cincinnati Bengals defensive tackle Devon Still, was diagnosed with Neuroblastoma stage four cancer.
"I'll remember that day, June second, the day she was diagnosed. I was in Delaware for a dance recital that she was having that day," Still said to Monday Morning Quarterback.
Bengals and NFL fans alike have been very supportive of Leah's struggle. Even the New England Patriots' cheerleading squad showed their support by wearing Still's jersey during the Bengals and Patriots game on Oct. 5.
Still's team has also shown great support, announcing that the proceeds from the sales of Still's number 75 jersey, which are available on the team's website for $100, will be given to Cincinnati Children's Hospital to support pediatric cancer research.
"At times, I've felt like I couldn't go on. This has hit me harder than any obstacle I've faced in my life…But the Bengals have been so good to me. People I don't know have been so good to me," Still said to Monday Morning Quarterback.
In addition, Robert Kraft, owner of the New England Patriots, will donate $25,000 to Cincinnati Children's Medical Center in Leah's name.
"The whole experience…I have been just stunned. It has helped so much. I can't believe that in this sport that has no so-called heart, it's really so full of heart," Still said to Monday Morning Quarterback.
For more information about Leah's battle click here