Homecoming How-To's: Finding the Perfect Dress
 Hey there fellow fashion enthusiasts, happy homecoming! First and for most, presented to you is a short poem in honor of the closing of the homecoming season:
When all through the city
Making sure to look pretty
In hopes that their dates
Would see nothing in compare.
   With that, though the weekend of homecoming events and spirit has passed for most, Sycamore Style Guide has a few tips for those who are still anxiously waiting for other upcoming homecoming experiences!
   The ultimate question that runs through ever girl's mind is: How do I find something to wear to homecoming? Well the answer isn't hard to find! Obviously dresses are the key component in your attire, but we know that you are hoping for something a little bit more specific…
   For those who are attending other schools' homecoming, and for next year, follow these six simple steps and you will be on your way to purchasing your dress and feeling confident with your choice:
1. Choose the right length and cut. Ideally the dress should be positioned at your knees or slightly above. Remember let's be classy! Homecoming is not the right time for long and lengthy dresses so short and sweet is what you want. As for straps or no straps…that is up to you! If it is strapless, however, make sure it fits perfectly because you do not want it sliding down all night.
2. Pay attention to material and designs. Though every girl loves their floral and bright colors, homecoming is not necessarily the most suitable event for those components. You should focus on darker shades, ivories, whites and blacks. When looking at the patterns be fun and creative, but don't be too obnoxious.
3. Make sure the dress is appropriate and practical for school. This   is a fun night with your friends, but be careful not to get carried away..This is at your school and most likely there will be teachers there to see you and what you are wearing, or perhaps what you're not wearing.
4. Know your personal style aesthetic and how it translates to a homecoming dress. Whether you're classy, fun, quirky or reserved the girl who can find a dress that most exemplifies their persona will be a standout. If you're fun try some ruffles or bright, exuberant colors. If you are classy go for a sleek, shimmering dress.
5. Plan your search in advance. Shopping for that perfect companion can be extremely difficult, especially if you have high standards. Two to three months ahead is safe timing for those who find themselves obsessing over this ordeal every waking moment. A month before the dance for those who want to be careful, and then based on your character several weeks before won't do any harm.
6.  Make sure you know when you've found the perfect dress. If you feel that you're in love with the dress you have and there is nothing else in the world that you could love more…stop looking. Do not look any further because you will only stress yourself out even more. If the dress fits to perfection and accentuates your natural beauty it is time to retire the endless search for a dress, hang up the pursuit next to last year's gown, and say good-bye for the quest for another dress won't come for a whole other year.
If you follow these six steps you are on your way to a successful and stress-free homecoming! This is supposed to be a fun time with friends, not a time to fixate on what and what not to wear. And no matter what you end up choosing, there is no doubt that you will look fabulous.
And remember: "Fashion is not something that exists in dresses only. Fashion is in the sky, in the street, fashion has to do with ideas, the way we live, what is happening." – Coco Channel
Sycamore Style Guide signing off…
About the Writer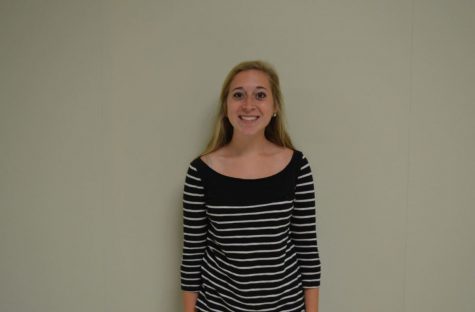 Zoe Schlosser, Leaflet Editor-in-Chief
This year marks the fourth and final year of my being a writer and designer for The Leaf and Leaflet. Starting out as an inexperienced staff writer, I...