Fiscal resolutions in limbo for US Congress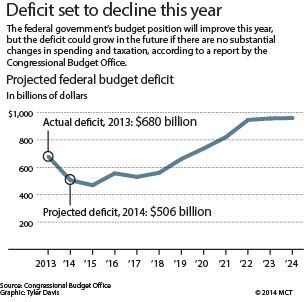 In Oct. 2013, the government closed for 16 days, from Oct. 1 to the Oct. 16. This happened because Congress could not agree on a bill to fund the government, and it resulted in a loss of approximately 24 billion dollars.
Congress has the power of the purse, which means they are responsible for paying for goods and services bought by the government.
Without these appropriated funds, it is illegal for the government to pay for anything, which includes federal employees like the military.
Congress had to make a Continuing Resolution (a way to fund the government without an approved budget) in 2013, which just continued the budget from the previous year, into 2014. Some amendments were made to the Continuing Resolution for extra funding, used to combat ISIS and Ebola, as well as assist Ukraine.
It is now time again for Congress to write a bill with the appropriations for the federal government for 2015.
There is the Omnibus bill, which would have funding for most government agencies, except the Department of Homeland security, which is what Republicans want to fund so they can battle President Barack Obama's executive actions on immigration.
Obama made an executive order granting amnesty to millions of illegal immigrants. Obama made this move because Congress was not doing anything to fix the immigration problem.
So he set down an order, and told Congress to fix it if they did not like it, forcing their hand.
The Republican-dominated Congress seems to be leaning toward a new 'Cromnibus' bill, which would take points from the Continuing Resolution and Omnibus bills that they think are favorable.
Whatever they choose, it must be signed and passed by Dec. 11, which is when the Continuing Resolution expires, and a new fiscal year budget is required. Otherwise, the government may shut down again.
Obama submitted a budget ground work to Congress with ideas of where discretionary spending can take place.
"[The 'Cromnibus' bill] is not going to pass the Senate, Harry Reed won't even bring it up. So Republicans need to figure out if they want to be blamed for another government shutdown, or make it look like they're trying to work something out, until next year, where they can try to limit Obama's executive orders through a legislative veto or something like that,"  A.P Government teacher Kevin Wittman said.