Guest speaker talks to students about Ebola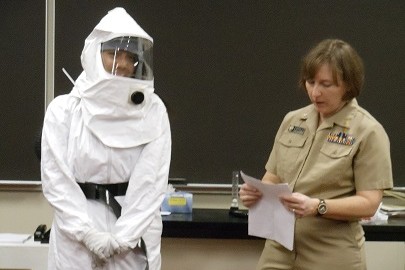 Students in Mrs. Mary Palmer's Accelerated Biology classes were visited by an engineer from the National Institute for Occupational Safety and Health (NIOSH), a branch of the Center for Disease Control (CDC).
Mrs. Cheryl Estill came to talk to students about Ebola and the preparations being made in hospitals to treat patients with the disease. She also went in depth about the different cases of Ebola seen in the country so far.
"The virus should have little cause for concern. Of the ten patients in the United States who have received Ebola, only two have died. The only people at risk are healthcare workers, nurses, and doctors treating Ebola patients," Estill said.
The symptoms and stages of Ebola were also explained.
"The most deadly stage of Ebola is the 'wet phase,' when the patient starts vomiting and experiencing diarrhea. This is when they lose a lot of body fluids, which can be deadly if not replaced. The reason this is the largest Ebola epidemic in history is because in West Africa, the aid workers don't have the equipment to replace the fluids lost during the 'wet phase.' Here in the U.S., patients can receive intravenous fluids," Estill said.
Most of the presentation's focus was on the precautions nurses take before treating sick patients. Students were given a step-by-step walkthrough on wearing hazmat suits.
They also learned of the check list nurses go through before treating patients and the systematic cleanup afterwards as well.
"I thought the whole presentation was super cool. I've heard so much about Ebola from the news, but it was a much different experience learning about the virus from someone actually on the front lines," freshman Emily Reddy said.