Softball players start conditioning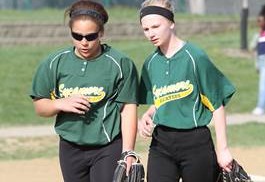 Winter sports are in season, so spring sports are starting to condition. Dec. 2 was the first day of conditioning for softball.
The practice started with warm up laps and stretching. Then the players did sprints in the back gym. After this the girls moved to front gym where they ran figure eight sprints.
"Running is the worst part of conditioning for me. Luckily today was not too hard, but it was only the first day of conditioning so it will get harder," junior Sydney Love said.
After the running portion of the practice the athletes went to the Gregory center where they were going to weight lift. But when they got there all of the bench pressing stations were taking by football players.
"It is a little annoying that the football players were using most of the machines because their season is over and ours is coming up," sophomore Hannah Young said.
Since the machines were not available the team did strength workouts. They started with crunches and went on to do planks and lunges.
The conditioning for softball will continue until tryouts in Feb. For more information on softball team click here.