Athletes speak out to controversial issues
Ever since the Ferguson decision was announced the United States has been the hot bed of political and social controversy, especially involving race.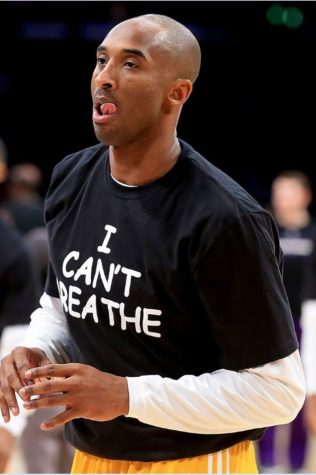 In that time athletes have morphed into social figures sharing what they think; even if we do not agree with them.
First, it was Derrick Rose wearing a shirt that read "I Can't Breath" in honor of Eric Garner. Then LeBron James, Kyrie Irving and other players wore the same shirt warming up before the Cleveland Cavaliers vs. Brooklyn Nets on Monday night. "It's not a Cavs thing," James said talking to ESPN before the game. "It's a worldly thing."
Then on Tuesday night the entire Los Angles Lakers team donned the shirts before their win over the Sacramento Kings. Georgetown basketball also came out to protest when their entire teams wore the t-shirts before their highly anticipated match up with number 10 Kansas.
This also comes weeks after five St. Louis Rams players walked out before their game showing the "Hand up don't shoot" gesture, in support of Ferguson, Missouri.
The St. Louis Police Officers Association responded with a statement that read "[We're] profoundly disappointed with the members of the St. Louis Rams football team who chose to ignore the mountains of evidence released from the St. Louis County Grand Jury this week and engage in a display that police officers around the nation found tasteless, offensive and inflammatory."
The protest following the two grand jury decisions have rocked the U.S. and have turned every major African-American athlete into a social icon.
The leagues have no decided to fine the players for breaching the pregame apparel rule, and are walking a fine line with what they can do if they wished to punish them.
"If the leagues punish these players for speaking their mind it would be awful," said sophomore Jacob Fritz, "They would be met with so much back lash."
This is not the first time LeBron has spoken out about social issues. He and then teammate Dwayne Wade, coordinated a team photo in support of Trayvon Martin, a Florida teen, who was shot and killed walking home from the convenience store.
Also in another instance Cleveland Browns receiver Andrew Hawkins wore a shirt that read "Justice for Tamir Rice – John Crawford" before playing the Cincinnati Bengals in the battle of Ohio.
The Cleveland Police Union responded with venom when they released a statement to local ABC station newsnet5.
"It's pretty pathetic when athletes think they know the law. They should stick to what they know best on the field. The Cleveland Police protect and serve the Browns stadium and the Browns organization owes us an apology." said Jeff Follmer Police Patrolman Union President in the statement.
Hawkins then responded with one of the most thoughtful and well worded responses we have heard from an athlete when he talked to reporters on Tuesday.
"I made the conscious decision to wear the T-shirt. I felt like my heart was in the right place. I'm at peace with it and those that disagree with me, this is America, everyone has the right to their first amendment rights. Those who support me, I appreciate your support. But at the same time, support the causes and the people and the injustices that you feel strongly about. Stand up for them. Speak up for them. No matter what it is because that's what America's about and that's what this country was founded on."
No apology has been released from any team, as protests continue to happen around the country.