Kung Fu Fighting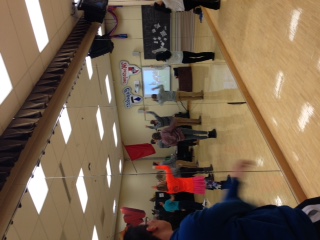 Chinese Club kicks off new year.
In Chinese Club, students celebrated Chinese culture through Kung Fu.  Also, participants learned Chinese dance, both old and western style.  To begin the year, members started with learning about the art and history behind Kung Fu.
"Kung Fu is such an interesting part of Chinese culture and heritage.  Not just is it a part of Chinese movies, but it's important to our history as well," President Yuen Zhang said.
After a brief power point detailing both Kung Fu, and also Chinese dance, everyone was served ethnic Chinese food, home cooked by Vice President Lila Englander.
"I love going to and being a part of Chinese Club.  I came today, because I love Kung Fu.  I've never tried Chinese Dance, but it sounds great," Englander said.
Participants had a choice between Chinese Dance and Kung Fu, and afterwards had dessert.
"I really enjoyed learning Chinese Dance, especially because dancing is one of my favorite things to do," freshman Jasmine Male said.
For more information on Kung Fu, click here.