Diving into Southwest District Classic meet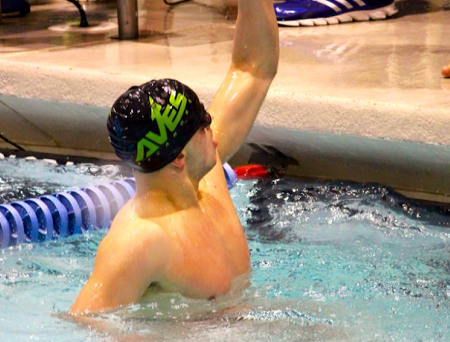 The swim team competed in the largest meet of the high school season on Sat. Jan. 17 and Sun. Jan. 18. The Southwest District Classic meet is a two day high school meet and the most competitive, other than the championship meets.
"At the classic meet we get to swim more diverse events than what we usually swim during the regular high school season. Including the 200 butterfly, backstroke and breaststroke; 50 butterfly, backstroke and breaststroke and even the mile," sophomore Lily Retford said.
For the preliminary session, there were nine sites. The high school teams were divided among those sites. SHS swam at Mason High School.
The finals session was held at St. Xavier high school. In order to qualify to swim at finals, the swimmer or relay had to place in the top 16 in their event at the preliminary session.
"It's a great experience seeing so many swimmers from so many different schools at the pool, especially with the TV stations. It's pretty surreal the first time you walk in. It's also really competitive but with your swim team, it's really fun," junior Priscilla Wu said.
The swimmers who qualified for finals in an individual event were:
Mark Hancher, senior
Mary Fry, junior
Mackenzie McMullen, junior
Priscilla Wu, junior
Amy Deng, sophomore
"Classic is a fun meet because we got to swim with a lot of different schools and swim races that aren't high school events. Swimming at finals is a good experience because all of the prelims sites come together so there is a lot of competition," Fry said.
For more information on SHS swimming, click here.