'Till We Have Faces:' the reimagined 'face' of the myth Psyche and Cupid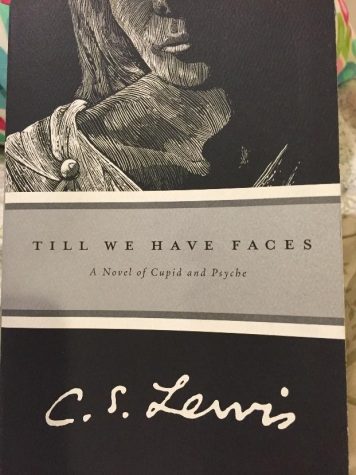 It has been said before and it deserves to be said again: C.S. Lewis has genius. Lewis was a novelist, poet, academic, medievalist, essayist, literary critic, lay theologian, and Christian apologist.
If that is not enough, he was part of the Inklings, the informal Oxford literary group that included such as J.R.R. Tolkein (of Lord of the Rings fame), and Charles Williams, editor of Oxford University Press.
So, Lewis was well read, wrote well, and had distinguished friends. What has this got to do with a Greek myth? Well, Lewis reimagined the old myth of Cupid and Psyche.
For those who do not know of the myth, Psyche was one of three daughters of a king. She was beautiful, and was revered for a goddess. None would aspire to her hand, so her father went for counsel and was told to bring Psyche to a mountain and chain her there, where she would be devoured by a monster.
Instead, the jealous goddess Aphrodite sent her son Cupid, the god of love, to strike Psyche with an arrow, making her fall in love with the basest of beings. Cupid fell in love with the beautiful Psyche, and had her carried away to a beautiful palace to be his bride.
However, Cupid told Psyche she must not look upon his face. Psyche is lonely through the day when Cupid is not there, so he sends her sisters to visit her. Her sisters, being jealous of Psyche's beautiful palace, good food, and beauty, convince Psyche her husband is a vile monster and that is why she must not look upon him.
They instruct Psyche to light a lantern when he is asleep, and to see the monster and kill him. Psyche looks upon her husband, to be in awe of the great beauty of the god Cupid. Cupid then awakes and banishes Psyche. Wailing and alone, Psyche is taken as a slave by Aphrodite, and made to complete impossible tasks.
These she completes, save for the last, upon which she looks in the chest though specifically instructed not to. She becomes unconscious. Cupid sees Psyche lying unconscious and takes pity on her. Psyche is forgiven and she becomes a goddess.
Lewis completely reinvents the wheel. While going off of the basic elements of the myth, he weaves a tale of his own, worthy to be a masterpiece in its own right. There are three sisters born of a king, and Psyche is the most beautiful. Under different circumstances she is taken up the mountain to be chained and left for dead, perhaps devoured by the awful shadow beast of Ungit, who is rather the goddess Aphrodite in this tale.
Psyche lives as wife to the god Cupid, who has fallen in love with her and provided her with a beautiful castle.
Orual is the oldest sister and rather a mother figure to young Psyche. She is heartbroken when Psyche is sent away. She later goes to the mountain in order to properly bury her beloved sister. Only Psyche is not there to be buried. She travels farther to find Psyche well and happy on the other side of a river.
But when Psyche speaks of the palace they are in, Orual is concerned. There is no palace, only a meadow. And the wine and goblet Psyche claims to have given her was only water given through Psyche's own hand.
Orual is bewildered and distressed, wondering what Psyche could be thinking of. Hearing of the unusual circumstances with her husband, Orual becomes suspicious. Thus, not by jealousy is Psyche told to see Cupid, but from a veil of concern from a loving sister. Psyche is not easily persuaded that her husband is a monster, but does as Orual commands.
So begins the gripping tale of Orual and Psyche. Orual, who later becomes Queen of Glome, is the main character in the story.
It is written from Orual's perspective. She writes in her old age, at a point where she believes the gods hold no power over her any longer. She is writing a book accusing the gods. "I will accuse the gods, especially the god who lives on the Grey Mountain." She writes how she perceives her misfortunes, trials, and wrongs. Although Orual is unaware of her jealous and selfish love of Psyche, the audience perceives this much sooner.
Though selfish, Orual is a sympathetic character as well. Lewis excellently portrays her "love," such as it is, and her self-deception. Such love or aspects of it everyone has at one time or another felt.
Given a clever and thoughtful ending, "Till We Have Faces" is a good read. It is not simply a retelling of a myth, but as Lewis himself writes in the note at the end of the book "Apuleius [the man who wrote what is the first original copy of the myth today] was of course a man of genius: but in relation to my work he is a 'source,' not an 'influence' nor a 'model.'"
To sum up the idea in Lewis' own words: "I saw well why the gods do not speak to us openly, nor let us answer. Till that word can be dug out of us, why should they hear the babble that we think we mean? How can they meet us face to face till we have faces?"