"We run from our fears… and the people behind us"
Winter runners stave off cold weather, run hearts out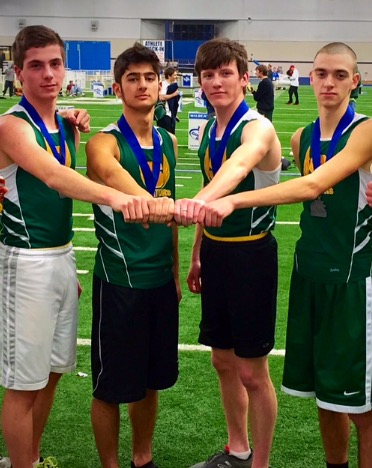 Training through the off-season, in any sport, is what separates the good athletes from the great athletes. This is why runners take advantage of the Winter Track team, using the winter season to improve their fitness and cut down their times.
Members of the team trekked down to the University of Kentucky on Feb 21 to compete. Sophomore Kevin Lawson and junior Rose Menyhert competed in the two mile, while sophomore Miles Menyhert, juniors Ray Berling and Martín Gonzalez, and senior Adam Lucken competed in the 4 x 800 meter relay.
"The meet was amazing, the most exciting one for distance by far! I had a great time competing against some amazing girls in the two mile," said Rose.
For Rose, the Winter season is merely an appetizer for the Spring season ahead, where the team expands, as does the enjoyment.
"I'm super excited for spring because it's fun to have even more friends on the track family. The team is extremely important; my fabulous friend freshman Jodie Lawson rode down with me to the meet, and we spent our whole Saturday together. She didn't have to run, and came just to support us," said Rose.
Rose was not the only member of the track team to have a successful weekend; the relay team was able to beat the school record, clocking a time of eight minutes and eight seconds.
"We were very excited to find out that we got the new school record for indoor track. However, now we have our minds focused on doing well at state," said Gonzalez.
The State Meet is on Mar 7, and the team believes they have a chance to place. However, the team is not satisfied with breaking the school indoor record; they hope to beat the outdoor record as well, which is currently eight minutes flat.
"We are eager for spring to come, as we believe we can break the school out door record as well. Last year we got eight minutes and four seconds at GMCs, and we are returning our entire relay team," said Gonzalez.
All four runners have previously participated in Spring Track as well as Cross Country. They feel that breaking the school outdoor record would be an appropriate way to end their career as a team, as Lucken will graduate this year.
"Breaking the outdoor record would definitely be a huge accomplishment for all of us," said Gonzalez.
For more in-depth articles on sports, visit www.SHSLeaf.org