Bestsellers reach outside the 'norm'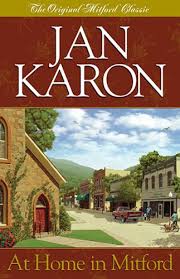 Sometimes one worries about this generation. We need instant gratification, we need entertainment, we need adventure and romance and we need it now. Lately, it seems the New York Times Bestseller List has been full of futuristic sci-fi and fantasy romance.
A book like Twilight comes out, and makes a big splash. All of the sudden, vampire books are popping out of the woodwork and hitting you over the head.
And one can tell that many of the authors wrote a book on vampires because they are popular, not because they have thought of a new and original plot, or because they have always been fascinated with vampires and wanted to write about them.
Recently, though, a book has surfaced on the list that falls under none of the usual "popular" topics: the Mitford series.
The Mitford series is about an Episcopalian priest, Father Tim, who lives and works in the small town of Mitford in the mountains of North Carolina.
The author, Jan Karon says she writes Mitford "to give readers an extended family, and to applaud the extraordinary beauty of ordinary lives," according to Penguin Books.
The series just covers the miracles and comings and goings of everyday life, told in a humorous and interesting way.
And it's so refreshing. Rarely do you hear of a book where there is no supreme adventure, no fight to the death, and it's really not even a romance novel.
I think it is so brave to go out there and write a story you want to write, that you were meant to write, and give it to the world, even though it is not the "popular" thing.
Karon must have wanted to write about these things, she must have believed in these things, because she certainly did not write these books in search of fame or fortune.
These books have a small town, tight knit community outlook, which many people don't read or experience anymore.
Mitford's mayors slogan is "Mitford takes care of its own." This wonderful sentiment is shown again and again in the series. To check out the books and find reading questions click here.
It warms the heart to know that in this fast paced, media-driven age people still enjoy and maybe even hope for the slow, old fashioned way of life. The New York Times Bestseller List seems to be looking up… to Mitford's hills.