Siblings battle for charity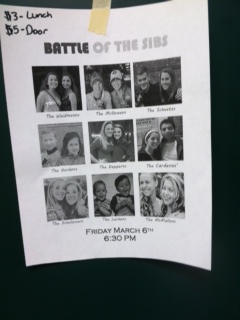 Sibling rivalries have plagued families for years but when it comes down to it siblings are always there for each other. Nine pairs of siblings will be working together to win 'Battle of the Sibs' for their charity of choice.
"I think competing with my twin as a teammate is a huge advantage because we are used to each other and know how to work together. We know each other's strength and weaknesses," senior Adam Lucken said.
Four of the nine siblings are twins. These participants include the Lucken's, the Weidman's, the Schlossers, the Cardenas, the McMullens, the Gordons, the McGowan's, the Deppert's, and the Schuetzs'.
"Battle of the Sibs has made Mackenzie and I closer as siblings. It's going to be an amazing experience and I would not want to do it with anyone else," freshman Megan McMullen said.
The event is Fri. March 6 in the 'Little Theatre' beginning at 7:00. In order to win, the siblings will have to work together in events such as the saltine challenge, egg roulette, drunk goggle trivia, name that tune, and an eating contest.
"Jon and I are happy to be supporting charity. We can have all the fun we want but in the end it's for the charity," Lucken said.
Tickets will be sold at lunch for three dollars and at the door for five. All money raised will be going to a charity picked by the winning siblings. Audience members will help with winning certain events through their rambunctious cheering.