Choir concert presents folk songs, Latin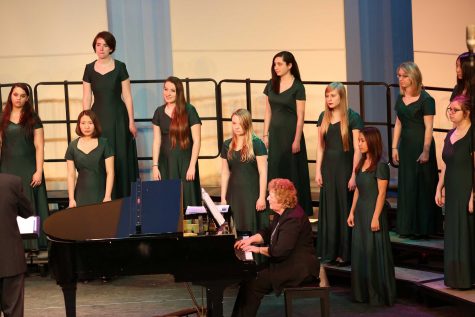 Choir class is really just one long rehearsal for the choir concerts and outside performances the choirs perform each year. As the next concert date approaches, choir classes focus all their energy on perfecting their performance pieces.   The performance is to be held in the auditorium on May 21 at 7 pm.
The choirs will sing a wide variety of music as they prepare for the seriousness of Ohio Music Education Association's Large-Group Adjudicated Event and have fun with tunes like Olly Murs' Troublemaker and Sly and the Family Stone's "Dance to the Music".
"The concert will include favorites like the American Folksong "Cindy," and "Danny Boy," and crazy-hard songs like Select's "Rytmus" that uses no key signatures, and lots of flats, sharps, and time signature changes, all the while being in Latin."
"'Cindy' will close the concert with 35 members of the band and orchestra programs accompanying," choir director Kenneth Holdt said.
This concert features 9 soloists: juniors Noah Silverman, Kevin King, freshman Hanna Leonard, senior Jillian O'Leary, freshmen Leslie Brown, Jin'dora Lumpkin, senior Jack Fry, junior Jeremiah Hunter, and freshman Benjamin Swart.  So far this year, the choral program has featured no less than 18 soloists at our concerts.  The choral program is a great way to get some time in the spotlight.
While parents and families often make up the majority of the audience, students are welcomed and even encouraged to attend the performances. After the performance food and drinks are provided for singers and audience members.
As this is the final concert of the year, after the usual performance senior choir members will receive a slideshow and awards will be distributed among select choir students; for more information on choir click here.