Liou rips through season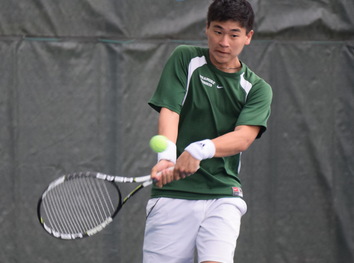 Sophomore Regis Liou ripping a backhand winner.   He has been having a fantastic season this year, not losing a set.  Liou predominantly played on the A team last year, losing only one match.
"I am really excited that I am officially on the team this year, tryouts were extremely scary and nerve racking for me." Liou said.
He is also the only left-handed player and second sophomore on the team.   Liou plays doubles and singles, and is deadly in both fields.  When asked about the possibility of playing college tennis, he says "That is really far off, but I hope to be able to play tennis in college as well."
Liou's versatility on court is coveted; he is able to hit astonishing winners from defensive positions and has a versatile and deadly forehand.   He considers his strategizing and mental game his greatest strength.
"As far as I know, I think it is best to be humble.  Sure you may see me win, but I would rather people be proud of who I am as a person, not what I do on the tennis court.  Liou said.
Photo courtesy of Aves10s.net
Neil Yejjey