Q&A with future assistant principal Derrick Richardson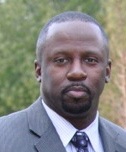 What are your goals for Sycamore High School? 
I am excited to join the Sycamore High School staff. Sycamore is an awesome school with extremely talented teachers that produces highly sought after graduates.  This is a great opportunity for me and I am looking forward to this new challenge.  The most important goal for any administrator transitioning into a new building is to study and learn the culture of that new building and begin to establish relationships with all stakeholders.
What will you bring to SHS? 
I will utilize the experiences and skills that I have acquired as a classroom teacher, athletic director and assistant principal to help the high school meet all of its goals and continue to be rated excellent.
What brought you to SHS? 
Sycamore has a great reputation and I was looking for a new challenge that would further develop my skills as an instructional leader.
What is your background relating to educational experience? 
I have nine years experience as a classroom teacher, four (4) years as an athletic director, four (4) years as an assistant principal and three (3) years as an associate principal.
Are you on any social media like Mr. Mader is on Twitter? 
I am on Twitter, Facebook and Instagram.
Is there anything else you would like to include?
My wife's name is Tammy.  We have two sons, Diarra (18) and Taaj (15) who attend Mason High School.