Fight of the century fails to live up to hype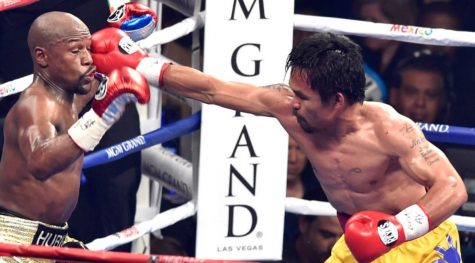 This was supposed to be the biggest fight since Tyson-Holyfield. This was supposed to be worth the $100 that people spent paying pay-per-view. This was supposed to be the main event that made all other main events cry to their moms. This was supposed to be epic.
Instead, everyone who watched was treated to an hour of the most boring action, a typically exciting sport, had to offer. Floyd "Money" Mayweather has spent the last month telling us "don't miss it, it's the fight of the century" and instead of living up to it, we watched him dance around the ring for 12 rounds, not even making an attempt to fight.
If you looked at all the fights on the $100 ticket that most people paid for, most would consider the quality of fight was greater in the first two then the main event. Yasyl Lomachenko was more on the money than Mayweather and he fought two hours before the prime time event.
Maybe this is why the sport of boxing is slowly dying, and tapering off from the days of Muhammad Ali, Mike Tyson, Joe Frazier, George Foreman and Sugar Ray Robinson. Manny Pacquiao tried to make the fight, while pressing and playing offense the entire time, but Floyd's dancing was too much for the 36 year old boxer.
I honestly did not know who won the fight until it was announced. Another problem with the sport is that a fighter that attacks and is on the offense the entire round was not rewarded while the fighter who ran and pranced around the ring was given the victory.
Maybe, it is because I do not watch boxing enough to understand the small nuances and details of every fight, but I did understand one thing. That was just boring.