Sycamore Moot Court places top eight in state
While regular students were busy with school work, 11 students traveled to Columbus on May 19, to compete in Ohio's second annual moot court competition. There were two teams that made the trip, one qualified for the elite eight after the first stage.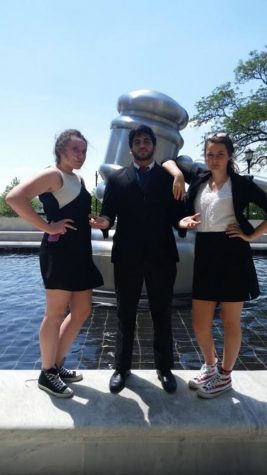 Moot Court has been meeting regularly on Mondays since March. Moot Court is a lot like mock trial except for the fact that it takes place in the appellant court. In the case presented this year, a garage band member was appealing a two year gang enhancement on his conviction of two counts of felonies.
"It was a really great experience. I honestly thought going in that it may be more boring than Mock Trial, but it was just different, in a good way. Considering this was our first competition ever, we did very well. We are definitely going to come back next year and build on this experience," said, Junior Animesh Bapat.
The team that made it to the elite eight was made up of the younger members of the group, consisting of Adam Meller, Jenna Bao, Bailey Truit and Josh Patterson. They ended up losing in the round of eight to Springfield Blue, a team made up of all seniors.
The group was headed by Mr. Andrew Ostendorf, the Law Studies teacher and Mock Trial coordinator.
The Moot Court competition is still growing considering this is the second year the state has held the competition in Columbus.
If you want to find out more about Moot Court and other legal competitions click here