BMW publicley releases new i8 supercar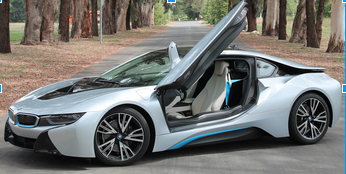 BMW cars have represented class and wealth for as long as they have been running. But fuel efficiency has not been one of their main concerns, until now. The BMW i8 supercar utilizes an electric engine, with three alternate modes for the driver to chose.
"This car is the insane. This car is just flat-out gorgeous." Junior Aravind Murali said.
The modes are an "eco" mode which is low-performing, but great for a fuel efficient ride on the city roads. The second mode is a "normal" mode which is medium-performing and used primarily for regular usage. Lastly, there is a sport mode which utilizes maximum power from the car to propel it to speeds up to 160 mph.
"I want this car so much. I would sell my house for this car, well not my house, but you get the point." Freshman Josh Nickol said.
The car is quite expensive, as it would set you back approximately $135,7000. It comes in charcoal grey, sea blue, and peal white, all of them have high-tech blue accenting. This is BMW's most expensive car to date
"BMW by far is the best car manufacturer" senior Nakul Narendran said.
Neil Yejjey