Getting INKed: Writer's Club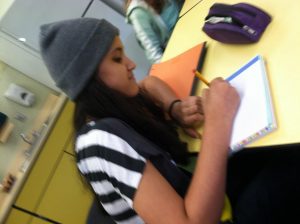 Pencils up, heads down. Usually this is used in regards to school work, but this is also being practiced with more affability at Writer's Club.
Every Monday from 2:30 p.m. to 3:30 p.m., the Writer's Club meets to write, share, and critique each other's work.  Freshman, sophomores, juniors, and seniors alike enjoy talking and working with fellow writers.
"My friend has been going there since last year and wanted me to join her. I joined because I live to write poems and short stories," said Nidhi Kanchan, 10.
Each year, the Writing Club comes out with a little book, featuring the members' short stories, poems, or other forms of literature.
Not only are they planning on publishing that, but they are to receive a page on SHSleaf.com to feature their writings. This will be found on the home page of SHSleaf.com in the future.
The Writing Club is to have a Prose/Pros at Panera in the near future. This will be a meeting held on Monday in lieu of the usual after school meeting. It will be held at Panera where students may trade and share some of their work that they wish to have feedback on.
Also, November is a busy month for many writers. The Writer's Club is considering offering prizes to those who decide to participate in the NaNoWriMo competition.
For updates on the Writer's Club, keep checking the SHSleaf website. For students interested in joining Writer's Club, it is never too late to join. There is a small fee of $5, and the club meets in the teacher's lounge every Monday from 2:30 p.m. to 3:30 p.m. Snacks are provided.